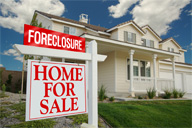 NewsUSA) – The home real estate market continues to suffer – but that doesn't mean that money can't be made.

Analysts say that a weak labor market, rising mortgage rates and increased energy prices have contributed to the current low home sales rate. According to The National Association of Realtors, real estate sales made by homeowners dropped to an annual pace of 4.86 million in June 2008. Rates haven't been that low since 1998.

Americans aren't looking to buy new homes – they can't even afford the houses they have. California alone saw 63,061 foreclosures between April and June – foreclosures amounted to 40 percent of total California homes on the market in May and June.

The number of foreclosures on the market helps drive housing prices down. Banks lose money paying utilities, maintenance expenses and taxes on empty houses, so they sell repossessed houses at bottom-dollar prices. Low prices on foreclosed properties drive down other homes' values, crippling neighborhood real estate.

But some companies feel that they can both profit from the down market and improve the real estate situation. One business, Deer
Park Development Corporation
(deerparkdevelopmentcorp.com), has focused on Nevada, which sees more foreclosures than any other state. In Las Vegas, one in every 299 houses is threatened by foreclosure. Million-dollar properties can be bought for half their building costs.

Deer Park Development Corporation draws on its 30-year experience in the real estate market to identify the homes that can turn a profit when the housing market improves. The company communicates with a network of brokers and agents with experience in down market sales. When the company identifies a worthwhile property, it works with the homeowner or bank to purchase the home at a 50 percent discount. The company can hold homes for 24 months before making any sales without losing money.

The company also allows former homeowners to rent their properties for a determined amount of time. When the lease expires, Deer Park Development Corporation gives people the chance to repurchase their home for a predetermined price.

Currently, they are searching for investors looking to cash in on the down housing market.
For more information, visit deerparkdevelopmentcorp.com.