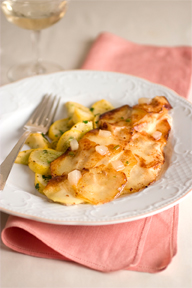 NewsUSA) – As autumn brings that special nip into the air, Americans start looking for hearty dishes. But a filling meal doesn't have to mean a dish high in fat and calories — a lean fish can bring plenty of flavor to the table.

Take U.S. Farm-Raised Catfish. These fish are raised on a specially formulated diet of whole grains, ensuring a mild and clean flavor. Nutritious U.S. Farm-Raised Catfish fillets are high in protein and low in saturated fat.

See how seasonal flavors complement catfish with this recipe for Potato Crusted Catfish with Granny Smith Apple & Jalapeño Glaze:

Potato Crusted Catfish with Granny Smith's Apple & Jalapeño Glaze

Makes 2 servings

2 U.S. Farm-Raised Catfish fillets

2 medium sized potatoes, peeled and cut in paper-thin slices

1 tablespoon Dijon mustard

1 tablespoon Creole Mustard

1 tablespoon honey

1 teaspoon cider vinegar

4 tablespoons olive oil

For the glaze

1/4 cup apple jelly

1 tablespoon water

1/2 apple, peeled and diced

1/2 jalapeño, seeded and diced

1. Preheat the oven to 350 degrees Fahrenheit.

2. Mix together mustards, honey and vinegar.

3. Spread the mustard mixture over the tops of the catfish fillets; arrange potato slices over the mustard, pushing down gently.

4. Heat olive oil in a nonstick skillet over medium high heat. Place the catfish potato side down into the pan. Cook four to five minutes.

5. Remove the fillets, and place them on a baking sheet. Place in the oven and bake 12 minutes, or until potatoes are golden and fish is cooked through.

6. Remove the catfish from the oven to a serving plate.

7. Take a small sauce pan, and combine glaze ingredients. Warm slightly and drizzle over the fillets.