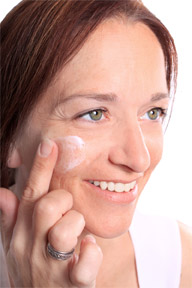 (NewsUSA) – When it comes to healthier skin, flower power isn't such a ridiculous idea. Haberlea rhodopensis, a rare Resurrection Flower, might be the key to smoother, younger-looking skin.
Indigenous to the harsh, arid Rhodopes Mountain Range in Bulgaria, the flower has adapted to survive in extremely arid conditions and can survive periods of dryness in a suspended state for up to 31 months. Even after drying out completely, a few drops of moisture are enough for the plant to return to normal growth. It will resume its usual functions in a matter of hours and achieve full recovery in one to two days. For this reason, it is sometimes called a "Resurrection Flower."
The plant's unique ability to revitalize its own cells may allow it to create visibly healthier, younger-looking skin in humans. In young women, the skin replaces its cells every 28 days. Some studies show that by age 40, skin takes 40 days to replenish itself. This contributes to changes in the skin's appearance that most women dislike, including a rougher texture, less elasticity, and more fine lines and wrinkles.
However, Haberlea rhodopensis may have both a protective and a vitality-stimulating effect on skin. One company, Kiehl's, has added a high concentration of the Resurrection Flower to a new advanced anti-aging cream. Called "Rosa Arctica Youth Regenerating Cream," its active complex has been shown to increase cell vitality and protect skin cells from future aging in-vitro. After using the cream, 91 percent of consumers said that their skin looked rejuvenated, while 93 percent reported that their skin felt denser and thicker. Most people felt they looked five years younger after using Rosa Arctica.
The high concentration of the Resurrection Flower in Rosa Arctica helps skin retain moisture for smoother, healthier skin while increasing cell vitality and triggering the skin's natural ability to create elastin and collagen.
For more information, visit www.kiehls.com.