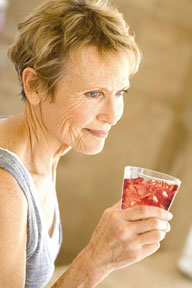 NewsUSA) – A new line of fruit-flavored protein-based drinks hopes to help seniors and those with dietary challenges meet their nutrition goals.

The makers of Isopure, a whey protein drink marketed to athletes and bodybuilders, realized that seniors, weight-loss surgery patients, and people receiving chemotherapy or radiation therapy were seeking out their products at health and nutrition stores. Recognizing that these customers' nutritional goals were different from those of fitness enthusiasts, the company created Isopure Plus — a line of clear, fruit-flavored,vitamin-fortified, protein-based nutrition and zero-carb drinks to help them meet these goals.

Under-nutrition or malnutrition is common among seniors and is often due to one or more factors, which include inadequate food intake; food choices that lead to dietary deficiencies; and illness that can cause increased nutrient requirements, increased nutrient loss, and poor nutrient absorption. Similarly, people receiving chemo, radiation, or anti-retroviral therapy may experience under- or malnutrition due to increased body stress from their illness and side effects of treatment. Nutritional drinks such as Isopure Plus can help these people get the protein, vitamins and calories they need to maintain proper nutrition.

In the past, nutritional drinks meant thick, gloppy milkshake-like formulations, usually in chocolate- or vanilla-based flavors. Many of these drinks contain ingredients that prove difficult for the lactose-intolerant and people with sensitive stomachs to drink regularly. By contrast, Isopure Plus is easy to drink, fruit-flavored and free from fat, gluten and lactose. It delivers 15 grams of protein and contains all eight essential amino acids plus vitamins in a single eight-ounce serving.

Another growing group, weight-loss surgery patients, are having difficulty getting proper nutrition as well, but need to avoid sugars and carbohydrates. Weight-loss surgery patients face a unique dietary challenge immediately following their procedure and must follow a strictly regimented liquid diet during their recovery. Getting adequate protein can be problematic for these people as many protein-rich foods can be difficult to digest during the early stages of recovery. Isopure Plus Zero Carb Protein Drink can provide these patients with the same benefits as Isopure Plus Nutritional Drink but without the calorie-packed sugars and carbohydrates.

The Isopure Plus line of drinks currently comes in two flavors — Alpine Punch and Grape Frost — and is available online and at GNC stores.