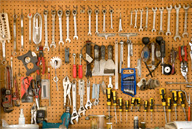 NewsUSA) – When a chill is in the air and clutter is in the garage, your car is often forced out in the cold.

"Like any other meaningful and valuable item in our life, cars need protection," said Alan Taylor of Car & Driver Radio. "I'm often asked how people can make their cars last longer, and it's not always just about the mechanics, it is also about protection and shelter. I tell them to get their car in their garage."

Whether its colors are fading or it's taking even longer to "warm" the car on those chilly winter mornings, Mother Nature's elements take their toll on your car. As the mercury drops, now is the time to get the car back in the garage.

Rakes and shovels, gardening pots, tools, golf clubs, basketballs, footballs and other sporting equipment litter most garages, leaving little to no space to move within, let alone park a car.

"Getting the car in the garage starts with getting the garage in order," says do-it-yourself expert Karl Champley. Champley points out that the first step to organizing the garage and getting the car back inside requires lifting the junk up off the floor and organizing it on the walls. The walls are storage space too often left unused. Plus, many people leave items on the floor, loosely stacked against the walls with no support, leaving the chance that if you bump them getting in or out of the car, they may fall onto the car and scratch it or cause other damage.

To clear the mess, get the car inside, and avoid damaging the car when it's in its proper home — the garage — Champley suggests the following tips:

* From Garage Floor Sprawl to On the Wall. Clear every inch of floor space to make it clutter-free. Products are available from companies like Gladiator GarageWorks, which offers modular hooks, shelving and storage cabinets that allow you to organize what you have on the wall. You can even hang your bike, wheel barrow and ladders to clear additional floor space and prevent damage to the car when parked in the garage.

* Organize the Place with Tailored Space. Once you know what needs to go up on the wall, it's time to create zones for your sports equipment, your workshop projects, your gardening center or other hobbies you're passionate about. Items are not only off the floor but in a familiar place every time you need something.

* To Keep It Straight, You Must Create. As you accumulate more and more keepsakes or other materials that need a home in the garage, get creative. Use organization tools like Gladiator GarageWorks blueprint estimator (www.gladiatorgw.com/blueprint/blueprint.jsp) which allows you to virtually organize your space online and then print out a plan to expand.