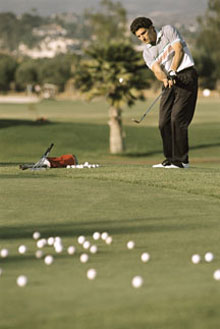 NewsUSA) – Racking your brain to think of the perfect Father's Day gift?

Not to fret, there are great gift ideas to match the countless interests and hobbies of fathers out there. Here are some options to consider:

* For the Sports Fanatic: Does dad spend too much time on the golf course or on the court in his mad pursuit for perfection? Give him a hand and buy him a new Sony DVD Handycam camcorder. He can film his golf swing or backhand in slow motion video, analyze his technique on TV and improve his game in record time.

* For the DIY Dad: If dad enjoys tackling those summer fix-it projects, new tools, storage organizers and do-it-yourself books and DVDs make great gifts. Or pick up a gift card from a home improvement store and let him choose the perfect tool for his next undertaking.

* For the Clothes Horse: New sunglasses and watches are perfect gifts for dads who are always in style. They will make him look and feel good.

* For the Gardening Guru: If your dad has a green thumb, you might want to get him some new tools for his favorite trade; that leaf blower or weed whacker he's been eyeing; a few plants; or a book on the famous gardens of Versailles.

* For the Barbecue Buff: If your dad loves to show off his ability to cook with fire, then consider barbecue utensils, aprons, cookbooks or even a new grill. Top it off with a gift membership to a "steak of the month" or "beer of the month" club to make for a perfect summer feast.

With these ideas, you'll be able to find a gift that's thoughtful, useful and appreciated – just like dad himself.