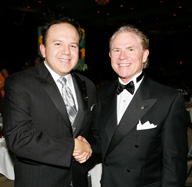 NewsUSA) – Across the globe, doctors and scientists are working together to develop and study cancer treatments. But in today's economic climate, many researchers are struggling to find funding. Due to years of government funding cutbacks, cancer research organizations have been forced to find other means.

One organization, Gateway for Cancer Research, is providing a solution. With 99 cents of every dollar going to cancer research programs, Gateway has been diligent about funding only the most pioneering research, ensuring that every donor dollar is a wise investment. Their funding has made it possible for pioneering investigators from around the globe to conduct essential patient-centered cancer research.

A recent fundraising event benefiting Gateway's Passport to a Cure, sponsored by National City Bank, raised over $1 million toward cancer research and clinical trials, where studies are used to help patients immediately.

Specifically honoring the work of Dr. Januario E. Castro, an assistant clinical professor in the Blood Marrow Transplantation Division at University of California, Passport to a Cure celebrated the impact Gateway-funded research has had, while also raising much-needed funds to continue vital patient-centered cancer research programs.

Says Gateway President Lynette Bisconti, "Gateway offers the opportunity to knock down doors that are closed to researchers who think 'outside the box' and drive research in a direction that truly benefits patients."

Despite every good intention, scientists cannot save lives without help. "I want Gateway to become the leader in not only knocking down bureaucratic doors but in opening thousands of new ones for researchers," says Bisconti.

Gateway currently funds over 20 Phase I and Phase II clinical studies including Dr. Castro's research study of immune responses against leukemia and lymphoma. To learn how you can contribute to furthering cancer research, visit GatewayForCancerResearch.org.