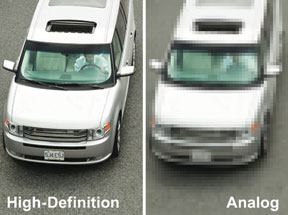 (NewsUSA) – Although cities are vibrant centers of culture and business, city dwellers must deal with public safety issues like theft, assault and vandalism. When law enforcement is stretched thin, who is held accountable for such crime, and how can individuals and businesses tighten security?
When a theft at his former business remained unsolved despite a significant investment in surveillance equipment, business owner Alexander Fernandes had a vision — build the world's best surveillance systems based on emerging high-definition (HD) technology.
"Low-quality surveillance footage simply isn't cutting it anymore. If the image is fuzzy and grainy, what kind of evidence is it? What kind of deterrent is it?" asks Fernandes, now the co-founder and CEO of Avigilon, a global supplier of HD video surveillance solutions. "Businesses, governments and other organizations need quality images that can be used to provide usable evidence in order to promote public safety, manage liability and ultimately detect and deter crimes."
High-definition images can provide irrefutable evidence, which is revolutionizing security-monitoring systems for public transportation, government organizations and businesses on a global scale.
Despite the availability of higher-quality HD solutions most installed surveillance systems still use analog technology, which results in grainy footage because of low-resolution cameras and poor-quality recording equipment. The perceived higher cost of HD is a reason why some organizations are not jumping to upgrade. Buyers won't, or can't, pay a premium for better technology. Related is the fact that new HD components must be compatible with existing analog surveillance equipment and IT infrastructure.
Avigilon has responded to the demand and barriers of adopting HD surveillance by architecting a complete system that delivers the best image detail, yet also eases the burden of cost, installation and support. To-date, Avigilon systems have been installed in more than 80 countries as organizations recognize the advantages of HD technology.
"We can cover 50,000 spectators in a stadium with 10 of our cameras and get facial recognition and valid, usable evidence," says Fernandes. "It could literally take over a thousand analog cameras to get that extreme detail."
Many other valuable non-security uses for HD surveillance are also emerging, such as analyzing traffic flow and staffing productivity.
Learn more about using HD digital surveillance systems to protect and enhance your business or community by visiting www.avigilon.com.