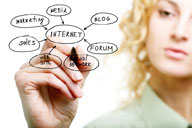 (NewsUSA) – Today people are bombarded with more information than they can process. Simultaneously, websites, blogs and social media have the public trained to consume information in bullet points, sound bytes and tweets containing 140 characters or less.
No matter how you are trying to get your message across, whether through social media, a website or blog, an ad or even a presentation, the best way to pique someone's interest is through compelling imagery. Photos must be engaging enough to get someone to focus on what you've got to say.
When choosing an image, it pays to be selective. Great images have the power to inform, inspire, confuse, shock, delight, empower, enrage and enlighten. Start by thinking about things like:
* Whom you want to reach?
* What message you want to communicate?
* What sort of tone you want to set?
* What kind of reaction you want?
While the image should relate to the overall topic, it doesn't have to do so literally. This gives you the artistic freedom to have fun with your image search. It also will help you remain open to inspiration as you search.
As to effective image searches, sifting through millions of images on the Internet via a simple search engine query is highly ineffective. The chances of finding something the right size, shape, resolution and quality are low. Copyright and privacy issues also arise — particularly if the photos will be used commercially.
Fortunately, there are places to get inexpensive imagery that can be legitimately used for a whole host of purposes. Stock pictures can be purchased from places like www.photos.com for as little as a dollar or two.
For blog posts, budget-sensitive projects and nonprofits, Photos.com offers easy searching from numerous categories in several subject areas. You can buy a single image, packs of images at various resolution sizes or even annual subscriptions.
For images to be used for an extended time, as in a website, or a marketing brochure, more highly art-directed imagery can be found at www.iStockphoto.com. Both sites have powerful search engines that make short work of finding the perfect image.