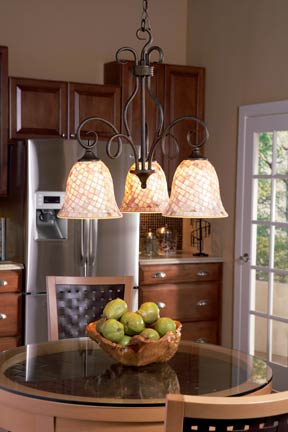 (NewsUSA) – The high "price tag" on groceries and gas do not have to put a damper on your plans to remodel your kitchen this year. According to the American Lighting Association (ALA), just merely changing out the decorative lighting fixtures over the breakfast nook or center island can have a big visual impact, creating a fresher, more up-to-date look — and it is considerably less expensive than replacing the cabinets or countertops.
If your kitchen's only source of lighting is from recessed cans, consider adding a few fixtures to serve as aesthetic and functional focal points in the room over the casual eating area and/or the island. To make all your lighting as efficient, effective and attractive as possible, dimmers are a must-have update.
"The greatest benefit of installing dimmers in an existing kitchen is that the quality of the resulting light will inevitably appear much more comfortable and flexible than what you had before," explains Joe Rey-Barreau, education consultant for the ALA and an associate professor at the University of Kentucky's School of Interior Design.
Todd Phillips of Quoizel, a leading lighting manufacturer, keeps track of the latest trends in kitchen design. "Transitional is still the operative word," says Phillips. "What's popular right now is what I would describe as Cleaned Up Americana. This is representative of the classic, familiar shapes and elements we all recognize, but with a bit sleeker appearance and on-trend finishes such as bronze and brushed nickel."
"Handcrafted, hand-forged designs are also gaining in popularity," Phillips continues. "The key word is clean. Finishes are still neutral, simple and clean. Along with beige, white, bronze and brushed chrome, I'm starting to see more polished chrome. I also find the more custom designs are a bit bolder in their use of color in the kitchen and in the lighting," he adds.
For help selecting the most appropriate, efficient and economical decorative lighting for your décor, visit an ALA-member lighting showroom. To find your closest showroom and to learn more about the latest lighting styles, visit www.AmericanLightingAssoc.com or call 800-BRIGHT IDEAS (800-274-4484).