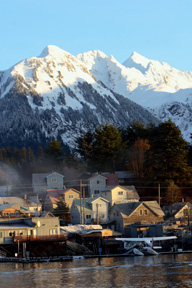 NewsUSA) – If a wall-hung boiler can heat a home in Alaska problem-free for 10 winters, then it can heat a home anywhere, according to mechanical contractor Mike La Fay.

La Fay, owner of Meadow Lakes Supply in Wasilla, Alaska, installed his first Baxi Luna modulating wall-hung boiler in early 2000. Since then, he has installed more than 100 of these high efficiency, eco-friendly heating appliances in homes throughout Matanuska Susitna County, which is a 50-minute drive north-east from Anchorage.

"It can be 30 below zero here for three weeks straight, so a reliable heating appliance is essential for both home comfort and survival," La Fay says. "I have not experienced any significant problem with Baxi Luna performance. With Gensco, the exclusive Baxi distributor in Alaska stocking parts and accessories, I am really looking forward to my second decade as a Baxi contractor."

Gensco is a leading wholesale distributor of heating supplies and equipment, selling only to qualified contractors trade in Alaska, Washington, Oregon, Idaho and Montana since 1947. More recently, Gensco supplied 250 Baxi Luna boilers for an award-winning community redevelopment of Seattle Housing Authority, which reported 37 percent energy use savings over another hydronic heating system.

"My neighborhood just got natural gas recently, so I now have a Baxi Luna heating our family home and my shop. Our former oil fuel bill was up to $500 a month, and now we are spending around $150 for gas," La Fay notes. "You simply can't get better than that — saving lots of money while knowing your heating system will withstand the coldest challenges of our winter."

Baxi is one of Europe's largest heating products manufacturer and has been making leading wall-hung boilers since the late 1960s. The firm's Bassano, Italy, plant has been producing Baxi Luna wallhung heating since it opened in 1978 and now makes 4,000 boilers a day for export to 70 countries, including the United States. Baxi heat exchangers are stainless steel and bear the ASME H-Stamp.

"I can recommend this appliance to homeowners with confidence, knowing it has a proven Alaska track record for quality, safety and environmental performance," says La Fay, who does ongoing maintenance of his installations and remains committed to learning more about the product. "I have learned a lot from a Baxi Luna training and contractor-certification CD-ROM. It is a great tool for a contractor located in Alaska."

To learn more about proven Baxi energy-efficient, eco-friendly heating solutions, including modulating, condensing or near-condensing boilers

(in either combination central heating and domestic hot water mode, or heating-only), visit www.wallhungboilers.com.