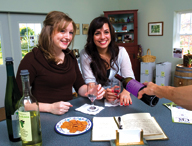 NewsUSA) – If you're looking for a unique way to mark an occasion, spend time with friends and family or even host a work event, consider a wine tour. Most wineries are open year round and cater to groups of all sizes. Consider the following to help you plan:

* Choose a theme: Many wineries have theme weekends throughout the year that celebrate changing seasons, holidays, local happenings and new vintages. Start with an invitation and then plan everything from food to music around your theme.

* Location, location, location: Make it convenient and choose your tour destination based on the number of wineries and hotels in one area. The Finger Lakes Region in New York is home to more than 200 wineries spread along five organized wine trails that make touring easy.

Travel resources such as www.tourcayuga.com can help visitors map out their route, learn more about a specific trail or find things to see and do along the way — even point you to wineries off the beaten path. Other growing wine regions such as Napa and Sonoma Valley, Calif., and the Niagara region found between Western New York State and Southern Ontario offer more than 50 wineries for visitors to choose from.

* Leave it to the professionals: If you don't know the area, schedule a guided tour. Many Inns and bed and breakfasts, for example, provide overnight packages that include private, luxury wine excursions (as well as picnic lunches and other "wine themed" surprises). Check out Aurora Inn's "Wine Country Getaway" package at www.aurora-inn.com or 10 Fitch's "Spoiled Girl's Getaway Package" at www.10fitch.com.

* Get in on the action: Don't just taste the wine, be part of the process. Call the wineries you plan to visit in advance to see how you can roll up your sleeves and get involved in everything from the picking to the stomping. For example, Heart & Hands Wine Company on the Cayuga Lake Wine Trail in Union Springs, New York, offers an annual "Crush Camp." Work alongside the winemaking team by picking fruit, sorting and pressing grapes, performing lab analysis and even the cleaning!

* Make it a lasting memory: Take a photo of your group, and turn it into a unique wine label for your favorite wine bottles, or hand them out as inexpensive souvenirs. Photo coasters are another fun, affordable way to remember your tour. Host a tasting event at your own home, and ask friends to share their favorites.

Wine touring can be a fun, unique and inexpensive way to spend a day with friends, loved ones or a large group. Don't wait until the last minute to book your tour or overnight reservations, particularly in the peak months of June through October. Try to plan midweek to avoid big crowds. Saturday is the busiest day at most wineries.