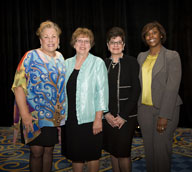 NewsUSA) – Facing cancer on a daily basis takes an extraordinary amount of courage and support on the part of cancer patients, healthcare professionals, family and friends. Battling cancer itself is extraordinary, as are the unwavering support and tireless energy of the oncology nurses who support patients and their loved ones throughout their cancer treatment journeys.

Oncology nurses routinely go above and beyond the call of duty to help, heal, support and care for their patients. For the fourth consecutive year, CURE magazine announced the winner of the 2010 Extraordinary Healer Award for Oncology Nursing during a special awards ceremony at the Oncology Nursing Society's (ONS) 35th Annual Congress. Nearly 200 cancer patients, survivors, caregivers and peers submitted essays to this year's contest, nominating their oncology nurses who have demonstrated exceptional compassion, expertise and commitment in their patients' fight against cancer.

This year's winner, Dorothy Wahrman, RN, OCN, of Nebraska Cancer Specialists, Omaha, Neb., was awarded the Extraordinary Healer Award in front of hundreds of her peers. Nominated by Valerie Bosselman, Wahrman cared for Valerie's daughter, Megan, who lost her battle with adrenal cortical carcinoma, a cancer originating in the outer layer of tissue of the adrenal gland, in 2008. Wahrman was described in the winning essay as "the most remarkable woman" whose "ability to sense the every need of patient and family was the most beautiful and natural part of her character."

"Valerie's essay immediately rose to the top of the essays presented for judging in this year's contest, as it was obvious that there was an intense emotional relationship created between nurse and family," said Susan McClure, Publisher, CURE magazine. "While we know each and every oncology nurse is a healer and an asset to those on the cancer journey, when choosing a winner for this event, we look for those who go above and beyond the call of duty, and it is obvious Dorothy did just that."

Additional finalists Annette Graham, NP, AOCNP, Virginia Cancer Institute, Richmond, Va., and Jackie Broadway, MSN, FNP-BC, MD, of Anderson Cancer Center, Houston, were also recognized at the reception.

"Since 2007, more than 600 nurses have been nominated for this award," said Kathy LaTour, Editor-at-Large, CURE magazine. "It is a way to recognize the commitment of oncology nurses and the life-changing impact they make on their patients."

For the third consecutive year, Centocor Ortho Biotech Inc. has sponsored the contest and award reception as part of an effort to recognize the professionals at the very heart of oncology care — oncology nurses.

"Centocor Ortho Biotech is proud to once again sponsor this award," said Robert Bazemore, President, Centocor Ortho Biotech Inc. "The winner's and finalists' essays provide just a small window into the remarkable work that oncology nurses do every day to support cancer patients and their families, from helping to guide their medical treatment journey to providing unique educational and emotional support during a tremendously challenging time."

The winning essay will be featured in the summer 2010 issue of CURE, a free, quarterly magazine for cancer patients, survivors and caregivers. A podcast of all three essayists reading their nominations will be available on www.curetoday.com beginning June 16th, 2010. Additionally, the essays, photos from the event, and a Q&A with winner Dorothy Wahrman will be displayed on CURE's Facebook page at www.facebook.com/curemagazine.