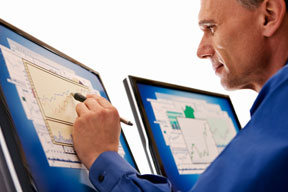 (NewsUSA) – In today's market, many small businesses have to understaff just to stay competitive. But that doesn't mean they have to be weighed down by the extra work load — outsourcing job duties, like accounting, can relieve pressures while keeping things running smoothly.
"Some business owners like to have their fingers in every project and monitor every responsibility, but this can result in scattered and less-productive work days," said Maria Reich, a partner at On Call Accountants. "Some decisions should be carefully controlled, while others must be delegated elsewhere to improve small staff efficiency. Outsourcing significant duties, like financial reporting and bookkeeping, often saves more money than employing an in-house bookkeeper and spares owners the stress."
Faulty records can halt orders and delay bank statements, and waste your tax preparer's precious time. Tax preparers will eat through their hourly rate if they must re-check your books and correct sloppy errors. Organizing invoices and receipts before tax season makes it less intimidating.
If you're nearing the end of your fiscal year, and you don't even know how the company fared, it might be time to seek outside accounting help. Avoid the nail-biting scramble of rushing to know whether you lost money this year. Reliable profit trajectories benefit from marketing and advertising efforts. Keeping track of finances guarantees that changes can be made to boost profitability and customer satisfaction.
Owning a business is time-consuming and exhausting.
Owners and faithful employees must make time for friends and family, too. Outsourcing helps productivity and pleases loved ones and children who have been begging you for dinner dates or family time. Firms like On Call Accountants are valuable resources to provide precise bookkeeping and in-depth accounting.
If you're still wary of outsourcing or trusting an outside entity, there are ways to build your comfort. Ask potential firms or companies for detailed qualifications. Don't be afraid to be thorough; contact current and past clients as references.
To find more information on outsourced bookkeeping and accounting services, go to www.oncallaccountants.com.