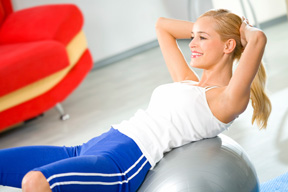 (NewsUSA) – For many of us, sticking to our health routine can be difficult. Morning runs outside get replaced with snuggling under the covers, and healthy eating goes by the wayside as sweets become the norm. Well, you can indulge and still stick to a healthy routine with just a few simple tweaks to your lifestyle. Valerie Waters, celebrity fitness trainer and contributor to publications like In Style, Fitness, Self and People, offers motivational tips just for you:
1. Get your Omega-3s, even if you don't like fish. The body produces low levels of Omega-3s, and the average diet contains insufficient amounts, so supplementing is important. Omega-3s have heart, brain and eye benefits. For those who would rather not swallow a giant pill, the makers of Centrum just launched ProNutrients, a new line of supplements from the most trusted multivitamin, with an Omega-3 that comes in a concentrated MiniGel.
2. Eat dinner earlier. When you eat dinner between 7 p.m. and 8 p.m., you are less likely to munch early or eat something late at night.
3. Eat seasonal fruits and veggies. Pick the brightest fruits and veggies and experiment with new flavors. Fresh produce improves your skin, gives you more energy and builds up your immune system. Options include butternut squash, kale, sweet potatoes and grapefruit. Complement your choices with a multivitamin, especially one for your specific health needs. Recently launched, Centrum Specialist multivitamins with heart, vision, energy or prenatal benefits gives you confidence you've made a smart nutritional choice.
4. Quench your thirst before you feel it. Dry rooms and extra heat cause you to lose more water in the winter. If your lips are chapped or you're thirsty, you're already dehydrated. Drink a glass of water during each meal and while you workout to help stay hydrated.
5. Get off the couch, but stay close to it. If you don't want to go outside to work out, modify your routine to exercise indoors. Squats, lunges, planks and pushups can all be done in your own home. Aim for at least 15 to 20 minutes a day. Also, park farther away while shopping at the mall, and use the stairs when possible.
For more of Waters' healthy living tips, visit www.facebook.com/Centrum.