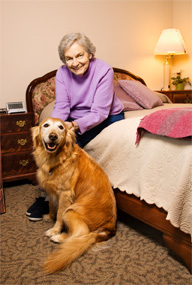 (NewsUSA) – During a tough economic climate, it can be a stressful time for many homebound seniors, if not for their pets. Many seniors, when strapped for resources, choose to feed their pets instead of themselves. This means neither the pet owner nor the pet get the nutrition they need to stay healthy.
To keep both pets and their owners fed, Banfield Pet Hospital and the Banfield Charitable Trust (BCT) partnered with the Meals on Wheels Association of America (MOWAA), which provides home-delivered meals to people in need, to create a pet-feeding program called Season of Suppers, which is now in its fifth year. As part of the program, more than 760 Banfield locations are collecting pet food and monetary donations to help homebound seniors feed their pets.
Despite the current economy, the BCT hopes to collect 40 tons of pet food and raise $100,000 to fund pet food distribution programs, which is an increase from last year.
Season of Suppers does more than provide meals. The funds it raises each year help sustain and expand pet-feeding programs throughout the country. As a direct result of the Season of Suppers campaign, more than 100 pet-feeding programs have been funded or received much-needed support.
Season of Suppers runs until Dec. 31. There are three ways to help feed hungry pets this year:
1. Purchase pet food and place it in the Season of Suppers donation bin in any Banfield Pet Hospital (located inside PetSmart). The BCT suggests items that are easy to transport, such as small bags and cans.
2. Donate money at any Banfield Pet Hospital in the Season of Suppers donation box. To find your nearest Banfield location, visit www.banfield.net
3. Contribute online by visiting www.BCTSOS.org and clicking the "donate now" button. Your donation of $30 will help feed one pet for an entire month.