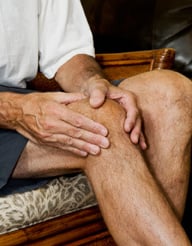 NewsUSA) – Chronic joint aches and pains caused by arthritis can interfere with everyday life, limiting mobility and function.

In early stages of arthritis, pain relief can be obtained from acetaminophen and anti-inflammatory drugs like aspirin, naproxen and ibuprofen or, for some, injections into the joint (intra-articular injections). However, when arthritis progresses, the cartilage between the bones disappears, and the joint is "bone on bone." At this stage, these conservative measures may not be enough.

"As the progression of arthritis cannot be stopped, patients should consider joint replacement surgery when the pain in an arthritic joint is severe and disabling," says Alejandro González Della Valle, M.D., orthopaedic surgeon at Hospital for Special Surgery in New York.

The criteria used for recommending joint replacement surgery include disabling pain associated with limp, loss of function and mobility. The best candidates for surgery are people who have seen deterioration in their quality of life or impairment in their activities of daily living due to arthritic pain. Activities such as going for a walk or performing some non-impact recreational sports should not be difficult for people without major health problems.

Before arthritic pain is severe enough to consider surgery, some simple measures can be implemented to diminish pain and promote joint health.

* Respect the pain you feel. Perform activities only to the point of discomfort.

* Plan ahead and be realistic about what you can do.

* Learn how to pick things up properly. Bend from the knees when lifting and carrying weights more than 30-40 pounds.

* Reduce repetitive impact on joints, and distribute weight among them to protect joints.

* When walking more than four or five miles, wear well-padded shoes with rubber soles.

* Think about your weight. The impact on your joints will be less detrimental if you are not carrying extra weight.

"No one is too young or too old for joint replacement," says Douglas E. Padgett, M.D., chief of the Adult Reconstruction and Joint Replacement Service at Hospital for Special Surgery. "Every condition can be addressed, even when compounded by other medical conditions."

The Adult Reconstruction and Joint Replacement Service at Hospital for Special Surgery is the world leader in hip, knee and surgical arthritis patient treatment, education, innovation and research. For more information, visit www.hss.edu.