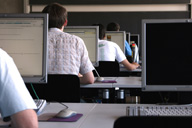 (NewsUSA) – Accepted by thousands of graduate schoolds and now more than 500 business schools worldwide, the GRE General Test can open up a world of opportunity for students looking to earn MBAs and other graduate degrees.
Prospective test takers have even more reason to take the test starting this August 2011, when the GRE revised General Test makes its debut. The revised test will include new types of questions and design features that contribute to a friendlier test-taking experience, as well as a new score scale that makes it easier for schools to compare test-taker performance. Here's what you should know:
1. The GRE revised General Test will be more test taker-friendly. Featuring advanced technology that lets test takers edit or change answers, and skip and return to questions, all within a section, candidates will now have the freedom to use more of their own test-taking strategies. Candidates will also have access to an on-screen calculator for the Quantitative Reasoning section.
2. Test-takers can save 50
percent on the GRE revised General Test if they take it in August or September, 2011. Educational Testing Service (ETS), creators of the test, is offering a limited-time 50 percent discount to all who take the GRE revised General Test between August 1 and September 30, 2011. Scores will be sent by mid-November.
3. Students can use Facebook or TaketheGRE.com to learn more about the GRE revised General Test. The GRE page on Facebook gives those considering graduate or business school an even greater opportunity to share advice and get clear information about the GRE revised General Test. The GRE program also introduced TaketheGRE.com, a website that provides pertinent information, plus access to free, official GRE test preparation software. Prospective test takers can sign up for free, customizable alerts and reminders about registration, test preparation and more.
4. The GRE revised General
Test will feature new question types. Questions in the Verbal Reasoning and Quantitative Reasoning sections now more closely reflect the kind of thinking you'll do in today's demanding graduate and business school programs. Changes include more emphasis on real-life scenarios and data interpretation and elimination of antonyms and analogies.
5. Registration is now open. Students are encouraged to select their test date as soon as possible. Candidates who need score reports before November should take the current test before August.
For more information, plus test preparation material from ETS, visit www.takethegre.com.
This article is copyright free. You are free to use it on a blog, website, in a newspaper, or newsletter.
To re-post this, copy the content above, or HTML on the right, and paste onto your site.