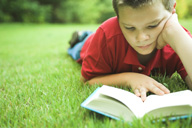 (NewsUSA) – It's called the "summer brain drain," and it's affecting students of all ages. During the long, hot months away from school, kids lose knowledge when they don't engage in educational activities over the summer vacation.
On average, students lose approximately 2.6 months of grade-level equivalency in mathematical computation skills. This effect is magnified with low-income students; about two-thirds of the ninth-grade achievement gap between lower- and higher-income youth can be explained by unequal access to summer learning opportunities during the elementary-school years.
If you think of summer brain drain as just a mere nuisance to be tackled by our nation's teachers, think again: over one million students in the class of 2010 failed to graduate with a high-school diploma.
The national graduation rate currently stands at a dismal 75 percent, due in part to the 15 million youth unsupervised after the school day ends and an additional 24 million in need of supervision during the summer. A low graduation rate contributes to increases in unemployment, poor health, crime and drug use. It lowers America's tax revenue and increases its public-assistance expenses.
To seriously address the high-school-dropout crisis, it is imperative to redefine the education equation to include community collaborations.
These critical pieces of the puzzle — organizations like Boys & Girls Clubs of America (BGCA) — provide refuge for youth during critical out-of-school hours. They aim to give youth a place where they can continue to learn and grow as individuals so they can go on to become productive, caring, responsible adults.
To further this goal, BGCA received $1 million from AT&T to expand the "Be Great: Graduate" program that helps rising 8th and 9th graders successfully transition into high school. The Be Great: Graduate program uses established risk factors to identify youth most at risk of dropping out of high school and intervene utilizing a mentorship program, with a proven record of success. To this point, the program has focused on high-school students, but with support from AT&T, BGCA will be expanding the program to younger participants through the launch of "Be Ready."
To learn more about the Be Great and Be Ready programs, visit www.bgca.org.
This article is copyright free. You are free to use it on a blog, website, in a newspaper, or newsletter.
To re-post this, copy the content above, or HTML on the right, and paste onto your site.