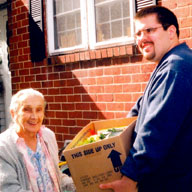 NewsUSA) – According to the Centers for Disease Control and Prevention (CDC), 36,000 Americans die from influenza, the common, seasonal flu, each year. Risks increase for pregnant women, children, seniors and people with disease or weakened immune systems, but people living in poverty face even greater problems. For the 23 million Americans living in Appalachia, a thousand-mile stretch that goes from southern New York to northeast Mississippi, cold and flu season is a dangerous time of year.

Most healthy people recover from the flu with soup and a few days' bed rest. But poor nutrition compromises the immune system. Currently, 23 percent of the people living in Appalachia do not get enough food. To survive, the rural poor skip meals, seek help from food pantries and foodstamp programs, and choose the cheapest foods available. Inadequate nutrition and long gaps between meals strain the body, making it more likely that a common virus, like the flu, will pose real danger.

Appalachians also lack access to the healthcare that keeps wealthier Americans healthy through cold and flu season. The CDC recommends that pregnant women, people over 50 and children between 6 months and 19 years old all receive flu vaccinations. Appalachians cannot access or afford such preventative measures. When they do fall ill, they might not receive life-saving emergency care.

Organizations are working to help improve access to medical care in rural communities. One non-profit, Americans Helping Americans (AHA), created its Emergency Medical Assistance Program to provide a safety net for struggling Appalachians who cannot afford emergency medical care, regular medications, eye exams, dental care, dentures or eyeglasses. Last year, AHA served more than 1.2 million pounds of nutritious food to over 13,000 individuals. In addition, AHA also supplied over $25,000 in prescriptions, eye exams and eyeglasses for the elderly.

AHA also supplies local food banks with nutritious staples -; not the fatty foods that fill stomachs but also cause malnutrition. Only in addressing Appalachians' overall health can organizations stop the spread of the flu virus among the nation's most vulnerable citizens.

For more information, visit www.helpingamericans.org.
This article is copyright free. You are free to use it on a blog, website, in a newspaper, or newsletter.
To re-post this, copy the content above, or HTML on the right, and paste onto your site.