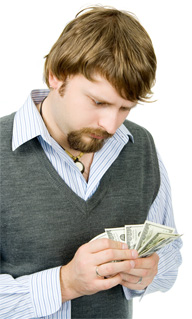 NewsUSA) – Americans across the country have noticed that when it comes to groceries and gas, their money purchases less.

The amount of money that used to purchase two gallons of milk now purchases one. Gas prices have almost doubled, increasing costs for those workers with long commutes. Americans find themselves rebudgeting, though their income remains stable.

But with a little financial savvy, Americans can stretch their dollars. Simple changes, like purchasing generic puffed rice instead of name-brand cereals, clipping coupons or buying dried goods in bulk can save money at the grocery store. Keeping tires properly inflated and driving the speed limit can help increase vehicles' fuel efficiency, leading to lower costs at the gas pump.

The best way to make a dollar more valuable? Save it. In planning for retirement and future expenses, Americans can turn their dollars into considerable nest eggs.

Financial advisors and columnists agree -; saving small amounts of money sooner results in larger net yields than saving more later in life. At age 25, someone saving 2,500 dollars a year in an individual retirement account (IRA) with 6 percent interest will save $437,376 by age 65. Someone starting to save at age 35 will have to put away $4,865 each year to make the same amount by age 65.

It's never too early -; or late -; to begin saving. One company, Save252, allows customers to contribute as little as a dollar a day, 265 days a year, towards their retirement.

Users specify the amount of money they want to contribute to a regular account or Roth IRA. Save252 automatically withdraws that amount from users' checking accounts, then transfers the funds. Customers remain in complete control of their savings -; they can, at any time, change the amount of money they want to save, or they can stop payments.

Even people living in lower tax brackets can afford to save for retirement with Save252.

For more information and more money-saving options, go www.save252.com.
This article is copyright free. You are free to use it on a blog, website, in a newspaper, or newsletter.
To re-post this, copy the content above, or HTML on the right, and paste onto your site.