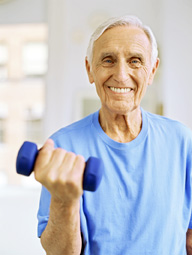 NewsUSA) – As the boomer generation ages, its members enter the healthcare system in increasing numbers and often incur large costs. By making small changes now, many future health problems and related expenses can be prevented. Blue Shield of California, a not-for-profit health plan with solutions for high-quality healthcare coverage at a reasonable price, offers these tips to help preserve your health and vitality well into the golden years:

– Stay active. Getting 30 minutes of physical activity just three days a week will help you lower blood pressure, maintain a healthy weight, prevent bone density loss, and keep your muscular and cardiovascular systems strong. Gardening, golfing and dancing can help you stay lively while enjoying yourself.

– Stay involved. Mental and physical fitness are equally important. Staying involved in your community, whether through friends or volunteer work, will help you achieve mental and emotional balance.

– Eat well. It's never too late to adopt healthy habits. A diet based on whole grains, fruits, vegetables, legumes and other lean proteins will lessen your risk of developing heart disease, kidney disease, diabetes and other expensive-to-treat conditions.

– See your doctor before you feel sick. Frequent check-ups can help catch health concerns before they develop into chronic disease. Vision, dental and dermatology exams are important. In fact, skin cancer is the most common form of cancer in the U.S., according to Medline Plus – U.S. National Library of Medicine, and people over the age of 50 are at higher risk. Work with your doctor to arrange an ongoing check-up schedule.

– Stop smoking. Smoking increases your risk for cancer and cardiovascular and respiratory disease. It's never too late to quit – your body begins recovering within minutes after you stop smoking, according to www.cancer.org.

– Be mindful of prescriptions. The average older person is taking more than four prescription drugs at once, plus two over-the-counter medications. When two or more drugs are mixed in the body, they may interact and produce uncomfortable or even dangerous side effects. Be proactive about having doctors or pharmacists check for possible drug interactions. Also try switching to generic drugs to save 30 percent or more on the average prescription.

For more healthy living tips and resources, visit Blue Shield online at www.blueshieldca.com/seniorhealth.
This article is copyright free. You are free to use it on a blog, website, in a newspaper, or newsletter.
To re-post this, copy the content above, or HTML on the right, and paste onto your site.