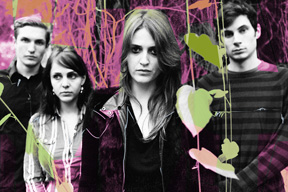 (NewsUSA) – Whether it's the impressive musical spectrum — heavy metal to ska to rap — or the sweaty delights of crowd surfing and mosh pits, each summer the Vans Warped Tour captures thousands by their gauged ears and doesn't let go.
Among the dozens of bands that will be mercilessly shredding guitars and vocals on the most anticipated rock tour of the year, the band to watch is L.A.-based Dead Sara. If you're looking for a brutal sound teeming with talent and a blend of originality and nostalgia, look no further than the estrogen-led quartet.
"Dead Sara fashions a strain of primal rock that's loud enough to awaken the ghosts in both the indie and metal underworlds, and maybe even get them to dance a bit," says Kevin Bronson on Buzz Bands LA, a website following emerging artists in and around Los Angeles.
Dead Sara's singles are burning up radio stations across the country, and fans are constantly checking Facebook statuses and Tweets about the release of their first LP. Similar to the Warped Tour, their self-titled album features a complex composite of genres, from blues to gospel to metal, that still resonates as inherently rock'n'roll.
The band's versatility has booked them gigs at some of the biggest festivals, including South by Southwest (SXSW) and the Warped Tour. Recent Warped Tours have included up-and-coming artists, like Katy Perry, Black Eyed Peas and Eminem. Now, the members of Dead Sara — including lead vocalist Emily Armstrong, guitarist Siouxsie Medley, bassist Chris Null and drummer Sean Friday — are hoping to follow in these lofty footsteps.
Armstrong and Medley strike a balance that could only be achieved by best friends who created their own label, Pocket Kid Records (PKR), to release their LP. Instead of letting big-name labels chew up their unique sound and spit out some formulaic album, the band stuck to their uncompromising guns and didn't sacrifice a single note, verse or wailing hook.
As with most gutsy moves, it was a gamble. But a sign of affirmation came in the form of a huge record distribution deal between PKR and Fontana/Universal Records. Dead Sara's gumption paid off. Their LP was recorded their way, with the singles "Weatherman" and "Sorry For It All," explosive tunes you'll be sure to hear on the Vans tour.
Warped Tour begins its sizzling trail June 16 in Salt Lake City. To read more details about the California rock band, go to www.deadsara.com. And don't forget to find them on Facebook and Twitter!
This article is copyright free. You are free to use it on a blog, website, in a newspaper, or newsletter.
To re-post this, copy the content above, or HTML on the right, and paste onto your site.