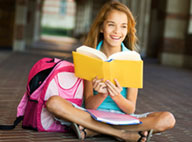 (NewsUSA) – Back-to-school mayhem presents a number of challenges for parents. Each morning there are breakfasts to make, lunches to pack and extracurricular schedules to track — all while trying to get to work on time. So, how do you navigate the morning chaos and hold onto your sanity? With these helpful tips, you can make your back-to-school mornings easier:1. Stick to a strict bedtime schedule. According to the Mayo Clinic, school-age children need 10-11 hours of sleep each night. Making sure kids are well rested will help avoid oversleeping and wasted time getting them out of bed each morning.2. Get prepared the night before. Pack all school bags as soon as homework is finished, and lay out school outfits prior to bedtime for the next day.This shortens the list of morning chores and adds a few extra minutes of rest. Also, don't wait until early morning to pack a rushed lunch with little nutrition value. Preparing the night beforehand enables parents to pack food with nutrients and vitamins, not just potato chips and snack packs. For even better efficiency, plan lunches a week ahead.3. Find a quick and balanced breakfast option. Not many parents have time for eggs and pancakes each morning, but there are quick, quality alternatives. Stock up on cereals that kidswill enjoy and are high in fiber, folic acid, iron, and vitamin C. Try Malt-O-Meal for family favorite varieties packed with whole grains. As an added bonus, Malt-O-Meal is available in resealable bags, which reduces the amount of packaging consumers have to dispose of or recycle by 75 percent. (BagTheBox.com)4. Make a weekly calendar of activities. Organize each family member's schedule to make sure kids are where they need to be at the correct times. Between extracurricular activities, like sports, clubs, study groups, jobs and friends, it can be a challenge to establish any sort of routine. Set up car pools in case some events overlap. Input alerts in your phone, and set an alarm for each to avoid temporary mental lapses.
This article is copyright free. You are free to use it on a blog, website, in a newspaper, or newsletter.
To re-post this, copy the content above, or HTML on the right, and paste onto your site.