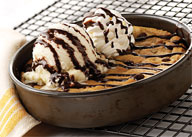 NewsUSA) – Cake and ice cream and brownie sundaes. The warmth of the freshly baked pastry, slowly working its way through decadent ice cream smothered in chocolate topping is a temptation few people can resist. And while the indulgent dessert remains popular, it takes a little innovation to make the dish unique.

Uno Chicago Grill, famous for their Chicago-style deep-dish pizza, put their spin on the dessert and now serve "The Deep Dish Cookie Sundae," a cookie baked into a deep-dish shape, then covered with whipped cream and ice cream, and topped with chocolate sauce. Lucky for us, the dessert is easy to make at home:

The Deep Dish Cookie Sundae

8 ounces chocolate chip

cookie dough

1 scoop vanilla ice cream

1/2 cup whipped cream

1 ounce chocolate sauce

1 7-inch, deep-dish or cake pan

Temperature-resistant plate, lined with a moist napkin

Cooking spray (such as Pam)

1. Spray the pan, bottom and sides, with cooking spray.

2. Place your favorite cookie dough into the pan. Press the dough evenly over the bottom of the pan.

3. Bake the cookie according to dough directions.

4. Place hot cookie pizza onto the temperature-resistant plate lined with a moistened napkin.

5. Place a scoop of vanilla ice cream in the center of the cookie pizza.

6. Place whipped cream next to the ice cream in a decorative fashion.

7. Stripe chocolate sauce over the entire cookie pizza.

8. Serve immediately.

For other fun variations, try:

– A peanut butter cookie dough with chocolate and vanilla ice cream

– A chocolate-chip cookie dough with coffee ice cream.

– A sugar cookie dough with strawberry or blackberry ice cream

– A chocolate cookie dough with mint chocolate chip ice cream

– A snickerdoodle cookie dough with vanilla bean ice cream

– A chocolate cookie dough with cookies-and-cream ice cream
This article is copyright free. You are free to use it on a blog, website, in a newspaper, or newsletter.
To re-post this, copy the content above, or HTML on the right, and paste onto your site.