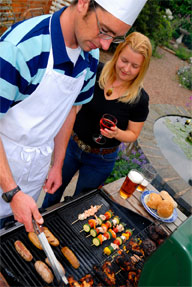 NewsUSA) – Simplify your summer entertaining and save money by heading outdoors for a barbecue. They're the perfect way to enjoy friends, food and the beautiful weather. Here are some practical tips to help you save money while making every barbecue a fun-filled and delicious event:

– Use simple decorations. The summer sky and the great outdoors provide natural beauty, so there's no need for ice sculptures or china plates. Inexpensive table cloths and color-coordinated plasticware provide ample decoration. For a simple centerpiece, pick flowers from your yard, and place them in a vase or plastic pitcher.

– Keep bugs away by using citronella candles. They provide light and help keep gnats and mosquitoes off guests.

– Use disposable plates, napkins and utensils to make clean-up easy. For example, Dollar General sells packages of paper napkins, foam plates and plastic cups starting at just $1 each. You can also get inexpensive trash bags at Dollar General.

– At the start of summer, stock up on grilling supplies, which can be found inexpensively at discount stores. If needed, buy a new grill. And, don't forget accessories like scrubbers, grill and basting brushes, baskets, forks and spatulas.

– Plan a simple menu, which will help keep costs low. Choose your main dish, such as hot dogs or hamburgers, and build your menu around it. Serve side dishes that are inexpensive and easy to prepare such as potato chips, pretzels, canned baked beans and pasta salad. Or make your party a potluck and have your guests bring the side dishes. For easy and inexpensive recipe ideas, visit www.dollargeneral.com.

– Build a condiment bar, including essentials such as ketchup, mustard, mayonnaise, pickles and relish.

– And don't forget drinks. Fill a plastic tub with ice for serving cold drinks such as soda, juice boxes and bottled water.

– End your barbecue on a sweet note. Use brownie, cake or cookie mixes to make a sweet treat without any mess or fuss. For a cool treat, make a pitcher of Kool-Aid, pour it into ice trays, insert popsicle sticks into each cube and freeze.
This article is copyright free. You are free to use it on a blog, website, in a newspaper, or newsletter.
To re-post this, copy the content above, or HTML on the right, and paste onto your site.