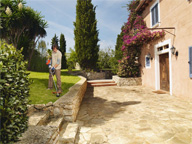 NewsUSA) – Father's Day is quickly approaching, and now is the time to find the best way to spoil your dad. Consider avoiding the boring tie or cheap gadget routine and give Dad a gift that makes his life a little easier around the house.

One of Dad's most common chores is the yard work, and this year, the team at outdoor equipment manufacturer Husqvarna suggests giving dad something that will help make cleaning up and clearing the yard a more manageable task.

According to James Parello, Marketing Manager at Husqvarna, using a quality tool with great ergonomic features is one way to help make Dad's outdoor chores easier. "It's important to choose equipment that is reliable and easy to use. Using the wrong tool not only takes longer, it could cause sore backs, necks and arms, all of which can actually cause accidents to happen."

Here are a few of the most common tools that will make Dad's life a little more enjoyable:

* Straight Shaft Trimmer: Equipped with Smart Start technology, the Husqvarna 128L trimmer is light-weight and well balanced, making it easy to quickly trim heavy grass or just do moderate edging.

* Handheld Blower: The light-weight Husqvarna 125B blower has a unique in-line design that prevents twisting forces that are common to most blowers.

* Yard Tractor: The compact size of this Husqvarna YTH2042 tractor makes it well suited for maneuvering around difficult landscapes and through tight spaces. In addition, the performance, power and comfort features make it a machine any dad would enjoy using.

Another thing to consider is that most modern dads appreciate the need to be sensitive to the environment. While shopping, be sure to look for products that feature low emissions and exhaust.

Husqvarna offers a variety of eco-friendly and ergonomic trimmers, blowers, tractors and other outdoor power equipment that any dad will enjoy using, and that will also help get outdoor chores done faster. For more ideas about great gifts for Father's Day, visit www.husqvarna.com/us or www.youtube.com/user/HusqvarnaUSA.
This article is copyright free. You are free to use it on a blog, website, in a newspaper, or newsletter.
To re-post this, copy the content above, or HTML on the right, and paste onto your site.