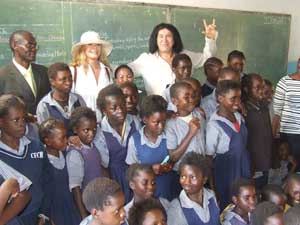 (NewsUSA) – The iconic rock star Gene Simmons has a huge heart — more than 140 times wide. The KISS band member — who stars in his own reality TV show "Gene Simmons Family Jewels," — highlighted his relationship with ChildFund International by inviting viewers to tune in to his journey to Zambia to meet 12 of his more than140 sponsored children.
Gene thought he was traveling to Africa to go on safari with his wife, Shannon; however, she had other ideas in mind. She had arranged for Gene to meet 12 of his sponsored children.
Gene and Shannon brought school supplies, soccer balls, backpacks and clothing to share with the children. One of Gene's sponsored children received a bicycle so he didn't have to walk the long distance to school. Shannon even gave one young woman the shoes off her feet.
While there, they met a young woman he sponsors named Esther. There are days when she and her family have no food. And while she loves school, it's not easy for her to get to it. She has to walk long distances, but she doesn't complain. She has a dream — she has wanted to be a nurse since losing both of her parents to illness.
Gene told her that he would make a deal with her: If she makes good grades, he would pay her nursing school tuition.
Shannon said, "You don't owe us anything. You don't have to pay us back. You owe us to be a good nurse."
Gene added, "We met an amazing 16-year-old girl with lots of charisma, who can change the cycle, but the odds are stacked against her."
Like millions of other sponsors, Gene was introduced to ChildFund through the organization's commercials. The commercial's message hasn't changed much — a small monthly donation can change the lives of children living in developing countries. And to this very day, the average sponsor is not a celebrity, just a regular person who cares.
"It's our responsibility to take care of each other," said Gene. "You don't need to be a star. You don't need to be rich."
This article is copyright free. You are free to use it on a blog, website, in a newspaper, or newsletter.
To re-post this, copy the content above, or HTML on the right, and paste onto your site.