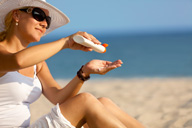 NewsUSA) – As the weather warms and children gear up for little league t-ball, baseball and softball, parents know to ask certain questions. "Do you have your glove, your bat, your baseball?" But many parents let one piece of equipment slide — protective eyewear.

Proper protective eyewear is one of the most important pieces of sports equipment your child will use. Every year, Americans experience 40,000 eye injuries during sports and recreational activities. Most of these injuries occur in athletes under the age of 25. Using protective eyewear could prevent 90 percent of those injuries.

America's favorite pastime, baseball, is the most common cause of sports-related eye injury in children 14 and under. The most common eye injury? Getting hit with a ball. Other sports known for causing eye injuries include softball, basketball, field hockey, ice hockey and football.

The American Optometric Association (AOA) urges parents to protect their children's sight by having them wear proper protective eyewear while playing sports. The AOA cautions that everyday frames and lenses do not meet the minimum requirements for impact resistance in most sports. The lack of proper protective eyewear can turn a small collision into a sight-threatening injury.

The AOA offers these sports safety tips:

– Have your child's eyes examined. A comprehensive eye exam can detect vision problems like nearsightedness, farsightedness and others that could hinder performance and lead to injuries.

– Ensure that your child has certified protective eyewear that will protect against injury and ultraviolet radiation. Sports-related eyewear is tested to meet rigid standards, and some have been independently verified and have received the AOA Seal of Acceptance.

– Set a good example. Eye injuries happen to adults, too. Don't forget to put on your protective eyewear when participating in sports or recreational activities.

For more information, visit www.aoa.org.
This article is copyright free. You are free to use it on a blog, website, in a newspaper, or newsletter.
To re-post this, copy the content above, or HTML on the right, and paste onto your site.