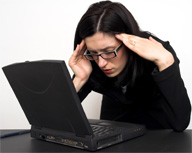 NewsUSA) – Paying bills can be an uphill battle, even when the economy is on an upswing. Add in the economic crunch, collapsed real estate market and a job market that is showing record losses each month, and you could find yourself not wanting to get out of bed in the morning.

For many business owners, the feeling is mutual. Owners must juggle payrolls, rents, taxes, and supplier debt -; along with their business loans. Surprisingly, many business owners do not realize that proven steps are available to assist their dilemma of what to do when bills can't be paid.

In a tough economy, a business's finances can change by the hour. Struggling business owners dread facing creditor calls. Owners need to change their mentality; yes, debt can be a problem, but it's a problem that can be approached and solved with strategic thinking.

Professionals have come up with six steps that help identify plans for business debtors to use while increasing cash flow. Business owners in debt should discuss these steps with their lawyer, accountant or trusted advisor to help determine the most beneficial plan.

Listed from most to least desirable are the courses of action your business can use to resolve its debt problems.

– Rehabilitation. Business owners can save their businesses and pay their debts through extreme cost cutting.

– Refinancing. Business owners can seek new terms for loans, like lower payments that can help free up capital for their business.

– Debt resolution. Owners can delay or attain a more satisfying settlement with their creditors through use of an Authoritative Third Party.

– New equity. Businesses can exchange ownership for capital.

– Sale. Owners can sell their business and use the money to pay off debts.

– Liquidation. Owners can sell parts of their business or their whole business or declare bankruptcy, which sadly will affect owners, employees and their spouses.

Services exist to help businesses recover from debt as an alternative to bankruptcy. One company, Performance Source Inc. (www.performancesourceinc.com), negotiates directly with creditors, enabling a business owner to save time and money and reduce stress. Negotiation results in debt being reduced so that the business may continue and grow with a cleaned-up balance sheet.

Business owners should reach out for professional help before debts become unmanageable. With the right service and correct plan, a business owner can minimize debt while allowing him to do what he does best – running his business.
This article is copyright free. You are free to use it on a blog, website, in a newspaper, or newsletter.
To re-post this, copy the content above, or HTML on the right, and paste onto your site.