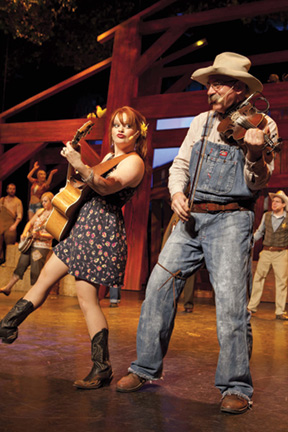 (NewsUSA) – It's been said that "Music gives life to everything." Combine that with the adage, "Variety is the spice of life," and you've got the perfect description of the entertainment found in Pigeon Forge, Tenn.
The Smoky Mountain town of a little more than 6,000 residents attracts millions of visitors each year, and many of them come for the shows performed in the city's dozen theaters. Each theater offers something different, so the choices are seemingly endless when it comes to entertainment.
Since Pigeon Forge is located in east Tennessee, one may expect to hear country and bluegrass performances. There's plenty of that and more, as talented entertainers belt out gospel, rock 'n' roll, Broadway tunes and even a touch of Motown. There's a fair share of magic and comedy as well, and we can't forget performing dogs, racing pigs and stampeding buffalo.
It's not just the diverse styles of music that give variety to the shows in Pigeon Forge. Each is filled with its own special cast of talented singers, dancers, musicians, comedians and more. Dig a little deeper into the talent pool, and you'll find a pre-teen banjo picker, a Grammy award-winning gospel group, an international yodeling champion, a lifetime member of the International Magicians Society, a gold medal-winning clogger and many others who bring special skills to the stage.
Pigeon Forge is home to a number of dinner theaters that combine mouthwatering meals with family-friendly entertainment. Again, it's all about variety? a friendly North/South competition performed on horseback, feuding lumberjacks and mountain families, and a nightly murder mystery to be solved, all serve up with tasty Southern treats.
Two of the city's special events feature musical performances. Saddle Up in February is filled with western music and cowboy poetry, while performances by nationally recognized country, rock or gospel artists highlight July's Patriot Festival.
In addition to the theaters of Pigeon Forge, award-winning shows are presented daily at Dollywood, one of the nation's most popular theme parks, many of them written by the park's namesake, Dolly Parton.
For more information about Pigeon Forge, call 1-800-251-9100 or visit MyPigeonForge.com.
This article is copyright free. You are free to use it on a blog, website, in a newspaper, or newsletter.
To re-post this, copy the content above, or HTML on the right, and paste onto your site.