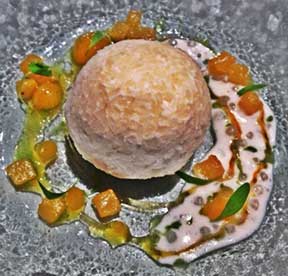 (NewsUSA) – Talk about a dessert that hits the spot — especially as the weather turns chillier.
You've heard of "pairing," right? Well, in shaking up the concept's traditional definition — matching wines to dishes they most complement — innovative chefs are now using spirits like cognac to create even more tempting culinary experiences.
Cognac's spicy and aromatic characteristics have always made for perfect drinking this time of year. But when Camus VS Elegance cognac (www.camus.fr) specifically is used as one of two "surprise ingredients" in this recipe for Coconut Snowballs, well, now you've got something really special.
"Camus pairs well with the creaminess of the coconut and actually enhances its flavor and the overall fruitiness of the dessert," Joshua Gripper, the executive pastry chef at the trendy W Hotel and Resort in Miami Beach, Florida, says of his creation, which he likes to serve after duck. "It gives a nice flow to the senses, and can also be enjoyed while sipping a Camus VS cognac on the rocks."
Oh, the other surprise ingredient? Ladyfingers, which — covered over as they are by the coconut — add their own "hidden dimension, flavor and texture."
COCONUT SNOWBALL
1 hour prep and overnight freeze
Servings: Makes 1 snowball
Custard ingredients:
1 1/4 cups coconut milk
2 1/2 tablespoons sugar
2 egg yolks
Combine all the ingredients in a small pot, stirring until the sugar is dissolved. Cook on medium-low heat while stirring constantly until the custard thickens slightly. Strain the custard and allow it to cool at room temperature.
While the custard is cooling, start making the mousse.
Mousse ingredients:
2 cups heavy cream (whipped)
14 ounces white chocolate
1 ounce Camus cognac
2 gelatin sheets
Whip the heavy cream with a whisk until it forms medium-stiff peaks. Melt the white chocolate over a double boiler. Soak the gelatin sheets in ice water until it's softened (5 minutes), and strain the gelatin to remove any excess liquid. Add the gelatin to the Camus cognac and melt them together (30 seconds at a time). Add the cognac to the custard, stir in the white chocolate, and mix until completely smooth. Fold in the heavy cream. Place the mousse in an airtight container and refrigerate overnight.
Assembly:
4 ounces pineapple juice
1 ounce Camus cognac
3 ladyfinger cookies
1/2 cup shredded coconut
1/4 cup diced pineapple (garnish)
2 leaves fresh cilantro (garnish)
1/4 cup coconut milk (garnish)
1 tablespoon olive oil (garnish)
Combine 4 ounces of pineapple juice with 1 ounce of Camus cognac. Cut 3 ladyfingers in half and dip quickly in the pineapple juice. Using a 4-ounce scoop, position the mousse onto a sheet of parchment paper. Place the ladyfingers in the middle of the mousse. Place the mousse in the freezer for 30 minutes (or until firm).
When the mousse is firm but pliable, roll it into a ball, and coat it in shredded coconut. Place the snowball in the refrigerator and start the final plating — positioning the snowball in the middle of an attractive plate or bowl, garnishing the dish with diced pineapple, cilantro leaves, coconut milk and a little olive oil.
This article is copyright free. You are free to use it on a blog, website, in a newspaper, or newsletter.
To re-post this, copy the content above, or HTML on the right, and paste onto your site.