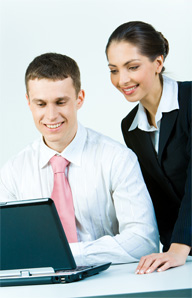 NewsUSA) – As America continues its economic slowdown, more people find themselves without jobs. Even employed Americans struggle as lower spending threatens small businesses.

But with additional training, some people have attained the skills not only to survive, but to thrive in today's tough economy.

Knowing that an economic downturn would lead to lower housing prices, Kevin Andrews completed a real estate investment course offered by Trump University.

Andrews, who owns a business in Arizona, soon learned about a homeowner overwhelmed by medical bills and a high mortgage. Andrews bought the home for enough money for the original owner to pay his debts, avoid foreclosure and still profit. Andrews then sold the home for a 20 percent return.

Andrews said that homeowners should "be able to get out of a foreclosure and walk away from the sale with some money to pay off bills or have in their pocket."

Other people further their education to improve on their current job performance. John Hancock, an Idaho-based financial advisor, took a course to help him learn how to invest in property. Hancock learned to research markets, evaluate properties, and contact and interview agents.

"When John came to us, he was already a savvy financial planner," said Josef Katz, the Vice-President of Trump University. After his course, "John knew exactly what to look for when he went to Boise to investigate the commercial real estate market and was able to orchestrate a financially sound deal."

Trump University is an online education company that teaches business skills. Its faculty, which includes both graduates from the best business programs and former Fortune 500 executives, teach programs in marketing, real estate and entrepreneurship.

Trump courses can help busy business people enhance their education on their own timetables. In a tough economy, when navigating the market requires special savvy, taking continuing-education coursework can mean limited expenses and large profits.

Said one Trump University graduate, "I have the confidence to succeed because I'll be able to take advantage of my Trump University training and the support system they provide me."

For more information about Trump University, visit www.trumpuniversity.com.
This article is copyright free. You are free to use it on a blog, website, in a newspaper, or newsletter.
To re-post this, copy the content above, or HTML on the right, and paste onto your site.