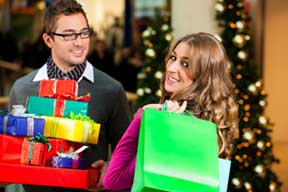 (NewsUSA) – Looking to stretch your dollars this holiday shopping season?
We're not talking anything as gauche as pretending you'll be out of town so you can buy everyone's presents at after-Christmas sales. No, we're talking ways to get more bang out of the bucks you do spend on holiday-related items. With the National Retail Federation reporting that the average shopper will spend nearly $750 on holiday-related items, every little bit of saving can help.
Here are some ideas you may not have thought of:
* Download retailers' discount apps/newsletters. Many retailers now offer special mobile apps that you can download for exclusive discounts and offers on not only specific items, but even your entire purchase. Others have free email newsletters that send weekly digital coupons you can use. And since they're on your mobile phone, you don't need to bring in flyers or coupons!
* Sell or trade in your old electronics and video games. You're sitting on found money if you have some unloved gadget collecting dust in a drawer. A website like BuyMyTronics.com will pay you via PayPal or check for products as old as a clunky Sidekick, while the retail giant GameStop (www.gamestop.com) gives you cold, hard cash or trade-in credits for video games and systems, as well as iPods, iPads and iPhones you or someone else on your list has been asking for.
* Build Gift Baskets. When even the wealthy "have fewer qualms" about shopping at discount stores, as CNN Money recently noted, maybe it's time to hit the racks and create a beauty case filled with body butter, oils and a thick loofa. The custom touch will go a long way, as will the extra savings.
* Take advantage of exclusive deals for gamers. Continuing the trade-in theme, GameStop has a special deal going that lets you score any new $59.99 video game — yes, that includes the latest "Call of Duty: Ghosts" — for just $9.99 by swapping two eligible ones you've probably already beaten like, well… "Call of Duty: Black Ops II." Check out www.gamestop.com/trade2 for details.
"We believe in giving gamers the opportunity to expand their entertainment experiences," says Ashley Sheetz, the company's chief marketing officer.
This article is copyright free. You are free to use it on a blog, website, in a newspaper, or newsletter.
To re-post this, copy the content above, or HTML on the right, and paste onto your site.