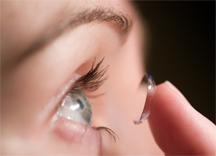 NewsUSA) – As children enter their teenage years, many become self-conscious if they must wear glasses. Contact lenses can provide a safe vision-correction option for young teens.

However, contact lenses, and the solutions required to care for them, have been identified recently as having their own set of hazards. Last year, the FDA recalled two widely used contact lens solutions brands, ReNu with MoistureLoc, manufactured by Bausch & Lomb, and Complete MoisturePlus, manufactured by Advanced Medical Optics. The B&L solution was contaminated with a dangerous fungus, "Fusarium," that caused blindness in a number of countries, and Complete was contaminated with "Acanthamoeba," protozoa that can cause permanent blindness within hours.

Even with uncontaminated solution products, teenagers who wear contact lenses can be at risk. To properly care for lenses, teens must use solutions to rinse, rub, re-rinse and properly store their contacts every time they wear them. In almost every case, teens should not wear contacts for more than eight hours at a time or sleep while wearing their contacts.

The contact lens industry admits that most adults do not properly disinfect and clean their lenses. In the American Optometric Association's 2007 American Eye-Q Survey, 79 percent of the contact lens wearers interviewed admitted to showering, swimming and sleeping in their contacts, not to mention wearing their contacts longer than recommended.

What's the problem? Teens and adults who over-wear, or don't properly clean and disinfect their lenses risk infections that can result in significant sensitivities, impaired vision and even partial or complete loss of their vision.

One FDA-approved product, the LensComfort Ultrasonic Cleaning, Disinfecting & Storage Unit, makes contact lens wear safer for teens. It is an automatic, one-step device that the teen uses to store lenses overnight and then plugs in for 15 minutes before they apply them to the eye.

Ultrasound technology is used in hospitals and dental practices to remove microscopic pathogens from equipment used in surgery and patient care. In the case of contact lenses, the LensComfort Ultrasonic Unit and LensComfort MultiPurpose Solution act together to actually clean in 15 minutes and disinfect all types of contact lenses

The ultrasonic unit can extend contact lens life and prevents teens from ripping their contacts during cleaning (rubbing). This helps parents save money and ensures that their teenagers will have healthy eyes and good vision.
This article is copyright free. You are free to use it on a blog, website, in a newspaper, or newsletter.
To re-post this, copy the content above, or HTML on the right, and paste onto your site.