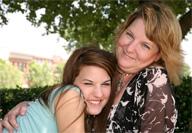 NewsUSA) – Opening the doors of communication could be all that it takes to prevent your child from drinking alcohol while underage.

A survey commissioned by The Century Council, a not-for-profit organization that fights drunk driving and underage drinking, revealed that 65 percent of kids say they have obtained the alcohol they drink from family and friends.

Having recently relaunched its Web site, www.centurycouncil.org, The Century Council believes that parent-child communication and community outreach are the best ways to curb underage drinking. The redesigned Web site proves a user-friendly platform for helpful, informative content to assist parents in initiating the all-important conversation regarding the dangers of underage drinking.

Parents of middle schoolers are offered "Ask, Listen, Learn: Kids and Alcohol Don't Mix," a program, developed in partnership with Nickelodeon, which uses activities and educational games to teach kids about the dangers of underage drinking.

The Century Council has a number of programs for parents of high schoolers including "Girl Talk: Choices and Consequences of Underage Drinking" and "Brandon Tells His Story." Many parents feel that the conversation about alcohol is uncomfortable;

www.centurycouncil.org provides tips on how to begin the conversation and important points to convey to your teens to keep them safe and alcohol-free.

"Parents, You're Not Done Yet" reminds parents that the conversation about alcohol must continue even though their teens have left for college.

Susan Molinari, chairman of The Century Council, added, "I'm excited about our new Web site and hope that parents will visit often to help facilitate conversations with their children about the dangers of underage drinking. After all, parents wield the greatest influence over a teen's decision to drink -; or not to drink -; alcohol."
This article is copyright free. You are free to use it on a blog, website, in a newspaper, or newsletter.
To re-post this, copy the content above, or HTML on the right, and paste onto your site.