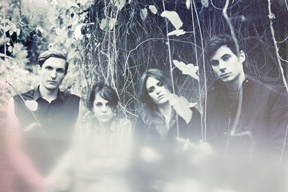 (NewsUSA) – Some bands never get the acclaim they deserve despite bucketfuls of talent, while others strap on jet packs and launch onto the scene with serious impact.Rock band Dead Sara belongs to the latter category. A female-fronted, gritty garage band that created their own record label to avoid altering their primal, unforgiving sound? A group that wrote its hit single during its first-ever jam session as a band? Serious impact.Dead Sara has been breaking molds and making waves since their conception. As the band burst onto the national radar with a self-titled debut album and a tour with Chevelle, some are calling it the renaissance of rock 'n' roll."Music, especially rock, needs this band to stay true to its roots," writes MarsBands.com, a website dedicated to scouring the world for up-and-coming artists (or just the underappreciated), after discovering Dead Sara. "Dead Sara could be the band we look back on in 20 or 30 years and say, 'yup, they saved rock. They made music good again.'"MarsBands isn't the only one making grand predictions about Dead Sara's future, L.A.-based music publication Campus Circle declared that radio stations everywhere have been waiting for this "diamond in the rough."Even Grace Slick of Jefferson Airplane name-checked Dead Sara's lead singer, Emily Armstrong, in the Wall Street Journal. And Courtney Love flew Armstrong to New York for back-up vocals on "Nobody's Daughter."Opportunities seem to crop up as often as sweaty new fans. In addition to Chevelle, Dead Sara will be touring with the Used too. The L.A. quartet, featuring Armstrong's best friend and killer guitarist Siouxsie Medley, bassist Chris Null and drummer Sean Friday, will make its late-night TV debut on Jimmy Kimmel Live! in June.Dead Sara's whirlwind schedule promotes its first record, produced by Noah Shain and distributed by Universal/Fontana through Pocket Kid Records. Shain has worked with other rock groups like Atreyu and Skrillex.Armstrong also wants to perform at loads of venues before Dead Sara features on one of the hottest rock tours of the year, Van's Warped Tour. But according to an interview Armstrong did with Rolling Stone magazine, Dead Sara is absolutely ready."It's like the power of rock and roll, it just frees me," Armstrong told Rolling Stone. "It's this release, it's unexplainable, when you're up there it's like you're in a different world and that's when I feel most like myself. It's so free and it's amazing."With such notable tours lined up and a hit debut album, Dead Sara is on the fast track toward critical acclaim. Learn more about the band leading the rock 'n' roll renaissance at www.deadsara.com.
This article is copyright free. You are free to use it on a blog, website, in a newspaper, or newsletter.
To re-post this, copy the content above, or HTML on the right, and paste onto your site.