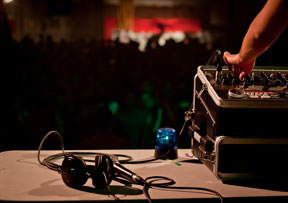 (NewsUSA) – The French DJ kings Daft Punk took the club scene over one single at a time, with electronic dance hits like "One More Time" and "Harder, Better, Faster, Stronger" reaching the top of the charts in the U.K. and U.S. Their commercial success opened the door for other popular DJs, like Tiesto, Diplo, Swedish House Mafia and up-and-coming artist DJ Ladé."Many of these acclaimed DJs start out in the underground club scene, getting a feel for what people want to hear and jive to. Then, if they have the potential and marketability, they get signed and start laying beats for big-name artists. From the clubs in Philly, Diplo moved on to work with acts like Missy Elliot and Lil' Jon," explains Jake Shapiro from Big Jake Music, a record label based in the Big Apple."DJ Ladé is on a similar track. He's built a solid fan base at some of New York City's hottest clubs. Like many great DJs, when he is in the Zone, he is amazing to watch, let alone listen anddance to," Shapiro added.Ladé remixed "Little Lion Man" from the British indie-folk band Mumford & Sons, infusing their vocals with his electronic edge. Although his enthusiasm for electronic dance music is prominent now, Ladé's career originated with his love for rock. Like many musicians, he started young — very young.Ladé performed alongside talented artists and carved a musical niche for himself before he even hit puberty. By the time he was a sophomore in high school, Ladé could play the violin, piano and drums and write his own music. He soon mastered the technical side of the creative process as he engineered and produced tracks using synthesizers and other electronic aspects.Once he began producing dance music, DJing just fell into place. Ladé says it fulfills his passion for performance, and being a DJ is just a "natural extension of playing the drums." But Ladé's style is certainly unique."He's recognized as one of the few DJ's in New York City who spins in a more traditional and musical style, without the use of a computer or software," says Shapiro.To listen to Ladé's remix of "Little Lion Man," or any of his other music, go to www.iTunes.com or check out his YouTube channel. Learn more at www.bigjakemusic.com.
This article is copyright free. You are free to use it on a blog, website, in a newspaper, or newsletter.
To re-post this, copy the content above, or HTML on the right, and paste onto your site.