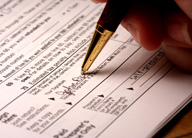 NewsUSA) – Some major tax breaks included in the American Recovery and Reinvestment Act (ARRA) and the Worker, Homeownership and Business Assistance Act passed last year are expiring for 2010, including the First-time Homebuyer credit, new vehicle credit and unemployment deduction and government retiree credit. However, many credits will again be available for 2010 federal returns -; the Making Work Pay, American Opportunity, additional child, expanded earned income and home energy improvement credits are among them.

"Certain credits and deductions require advanced planning in order to get the maximum tax benefit. Although it may seem really early to start tax planning for next year, it's a smart move that could save you thousands.," explains Jessi Dolmage, spokeswoman for Second Story Software, the makers of TaxACT.

A few easy steps will help you avoid missing out on credits and deductions, and minimize your tax liability.

First, familiarize yourself with both acts by visiting www.IRS.gov. An entire section of the website is dedicated to the ARRA, and additional information and a Making Work Pay Calculator are available at www.TaxACT.com/recovery-act.

Second, get organized. Put all tax records in one secure place, including receipts and statements related to:

* Child and dependent care

* College expenses

* Medical expenses

* Vehicle taxes

* Real estate taxes and mortgage interest

* Charitable contributions

* Business or employee expenses

* Investments and retirement contributions

* Energy-efficiency property expenses

* Expenses related to job searches

Sort documents by topic to easily access the information when working on related deductions and credits. In addition, include a copy of your 2009 tax return for reference and comparison. If you plan to e-file, you'll need it for your 2009 Adjusted Gross Income or Self-select Personal Identification Number.

Third, start your 2010 federal tax return in October and create your year-end tax plan with the preview versions of TaxACT. Starting your federal return early will save time when you're ready to file, reduce errors (because you won't be rushing), and find all your deductions and credits.

Dolmage explains, "Whether you typically do your own taxes or have never done them, a solution like TaxACT Online Free Federal Edition will show you exactly how these tax law changes will affect your 2010 return. Choose a step-by-step interview or complete the IRS forms yourself, at your own pace. Either way, TaxACT will help you capitalize on the acts and estimate your refund amount or taxes owed."

To start your free 2010 federal tax return or for more information about TaxACT, visit www.TaxACT.com.
This article is copyright free. You are free to use it on a blog, website, in a newspaper, or newsletter.
To re-post this, copy the content above, or HTML on the right, and paste onto your site.