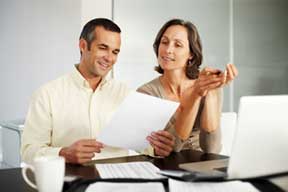 (NewsUSA) – Imagine if Goldilocks had to file taxes — forking out a hefty amount in April one year, then getting a huge refund the next. For many adults, finding a withholding amount that's "just right" seems nearly impossible.
But, if you owed taxes last year or received a refund that was a great deal larger than expected, it may be a good idea to adjust your withholding. The bottom line is to pay the lowest amount of taxes possible.
As the end of the year looms, there's still time to talk to a licensed tax specialist about adjusting withholding, as well as other possibilities for easing your tax burden for this coming season.
Read some tips for last-minute tax savings from America's tax experts, the National Association of Enrolled Agents — a group of licensed tax practitioners who focus solely on taxation year-round.
* If you're in the top tax bracket of 35 percent, you may want to accelerate income into 2012, if possible. Depending on Congress, the highest tax rate may rise to 39.6 percent in 2013.
* Along with the possibility of higher ordinary income tax rates, there's the possibility of higher capital gains rates on investment income in 2013. The top capital gains rate for investments held for more than a year is 15 percent for most taxpayers through 2012, and zero capital gains tax for investors in the 10 percent and 15 percent tax brackets. If your crystal ball says capital gains taxes are going up next year, you may want to consider locking in profits on long-term investments before the end of this year.
* Giving to charity can help reduce your tax bill if you are able to itemize deductions. In addition to contributions made by cash, check or credit card, the crisp fall air may provide the energy to clean house looking for items in good condition that can be donated to a qualified charitable organization. Remember to make a list of the items and determine their fair market value. Clip the list to the receipt from the organization and keep it with your tax documents for your records.
* Sometimes, a major life change is thrown your way, and you might not think of it as a tax deduction. If you found yourself looking for a new job, then agency fees, resume expenses, career counseling costs and travel related to the job search may be deductible even if the job search was unsuccessful.
Get more tips and find an enrolled agent at www.naea.org.
This article is copyright free. You are free to use it on a blog, website, in a newspaper, or newsletter.
To re-post this, copy the content above, or HTML on the right, and paste onto your site.