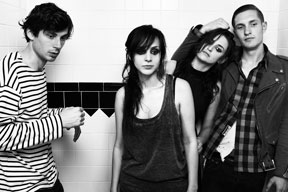 (NewsUSA) – Discovering a new favorite band is as satisfying as devouring the newest Tarantino film, or finding that pair of pants that makes you stand out just about anywhere. But only one new band is guaranteed to headline 2012 new CD releases with their first-ever album.This assertion isn't made lightly — the female-fronted rock quartet from Los Angeles called Dead Sara had almost every major label fighting over it. That's right, even before the release of an LP or a hit single."Dead Sara's grunge-rock-like sound with a modern splash is exactly what radio stations everywhere have been waiting for," says Campus Circle, an L.A.-based film and music publication.The four-piece ensemble pairs the powerful vocals of Emily Armstrong — who is consistently dubbed "the best female vocalist since Janis Joplin" — with the monster guitar skills of Siouxsie Medley. The dynamic duo is backed by Chris Null on bass and Sean Friday on drums.The self-titled LP will debut April 10, on Pocket Kid Records, a label started by Medley and Armstrong, and distributed by Fontana/Universal, making Armstrong's electric voice and Medley's ferocious riffs available to the masses. Armstrong has received accolades from far and wide, including Jefferson Airplane's Grace Slick and music authority ArtistDirect.com, who said, "Dead Sara sound like Nirvana fronted by Stevie Nicks."Other heavily anticipated 2012 albums consist mostly of tried-and-true artists — including the rock-esque groups Muse, Tool, Linkin Park and long-time-no-see, The Killers. Hip-hop and R&B lovers are still waiting for the John Legend/Kanye West collaboration, and they'll probably give Kid Cudi's new alternative band WZRD a listen or two.But other than Lana Del Ray and "Born to Die" — and frankly, the vote is still out on her after the SNL faceplant — Dead Sara is one of few emerging bands to release such a sought-after CD in 2012. Whether the appeal stems from Armstrong's addictive voice or the band's collective sound, it brings a revival to rock 'n' roll that both refreshes and reinvents the genre."Diversity is what's honest and real to us," says Medley. "We love classic rock, blues, folk, metal, punk, gospel, all of it, so we didn't want to put restrictions on ourselves genre-wise. We just knew we wanted the music to sound really raw and primal, even a bit unsettling."Well, it hit the mark. Dead Sara is unsettling — unsettlingly good. To hear the single "Weatherman" or learn more about the upcoming album, visit www.deadsara.com. Follow the band on Facebook and Twitter, too.
This article is copyright free. You are free to use it on a blog, website, in a newspaper, or newsletter.
To re-post this, copy the content above, or HTML on the right, and paste onto your site.