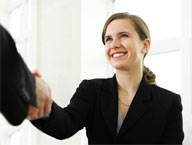 NewsUSA) – Many Americans dream of entering the business world, but don't know how to get started. Giving up one job to start from the bottom in another sector isn't always realistic, and those with little experience might not know how to run a solvent business. For them, buying a franchise could be the best opportunity available.

Many franchises promise little risk — one oft-cited statistic is that 95 percent of franchises succeed, while 90 percent of independent businesses fail. But this statement rings false. In fact, the International Franchise Association (IFA) asked franchises to stop using this misleading statistic in 2005. There is a risk in starting any business, even a new franchise location.

But that doesn't mean that franchises don't succeed. According to the IFA, franchises operated 909,253 establishments, provided 11 million jobs and contributed $278.6 billion in payroll between 2001 and 2005, the last year for which information is available.

According to FranchiseMart/Biz1Brokers, a business that matches prospects with franchise opportunities, franchises work best for people with some start-up money, but little or no business experience. The franchisee can take advantage of the franchise's proven business methodology, training and management support to learn how to run their business successfully. Franchises also offer greater exposure, thanks to national media campaigns, and cost sharing that can lower overhead. All in all, franchises offer greater security to the first-time business person, especially in today's rough economy.

Would-be franchises should look for franchises that offer thorough training and continuous support. For example, United Franchise Group, which owns multiple franchises, including Signarama, Billboard Connection, Plan Ahead Events and Embroid Me, enrolls its franchisees in a mentorship program, so new franchisees can get advice from successful franchise owners. Proven marketing, a good success rate and a strong brand also indicate a franchise that's worth an investment.

Of course, finding the right franchise is the first step towards success. Those interested in buying a franchise should look at businesses that suit their skills, personality traits and budget.

For more information, visit www.unitedfranchisegroup.com.
This article is copyright free. You are free to use it on a blog, website, in a newspaper, or newsletter.
To re-post this, copy the content above, or HTML on the right, and paste onto your site.