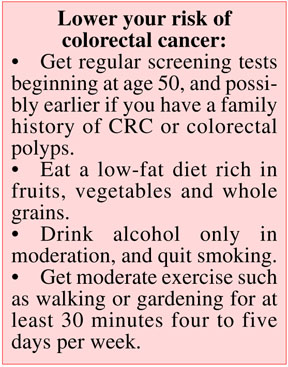 NewsUSA) – Twenty-seven-year-old Queah Habern didn't know why she was always feeling full, and after months of sickness and misdiagnoses, she had an emergency appendectomy. Two days after surgery, she got the verdict: stage III colon cancer.

"I just remember thinking that this can't be happening, it was surreal," says Habern.

In fact, colorectal cancer is the second-leading cause of cancer-related deaths in the U.S. It can affect anyone, men and women, at any age.

"Tragically, there is a general perception that colorectal cancer only affects Caucasian males older than 50," says Dr. Tonya Adams, a gastroenterologist and rectal cancer survivor who was diagnosed at age 36. "If you have a family history of colorectal cancer or polyps, a history of inflammatory bowel disease, unexplained abdominal symptoms or blood in the stool, consult with a board-certified gastroenterologist for further evaluation."

Experts recommend that people 50 and over have a colorectal cancer screening (colonoscopy) every five to 10 years. The five-year survival rate for people whose colorectal cancer is treated at any early stage is greater than 90 percent, according to the American Cancer Society.

"We know there are effective screening technologies to help detect this cancer early and save lives," says F. Mark Gumz, president of Olympus America Inc. "I urge all U.S. companies to include routine screenings in their employee health insurance plans." Olympus is the leading global manufacturer of endoscopes, the medical devices commonly used for colonoscopies.

While symptoms of colorectal cancer vary, they may include vomiting, rectal bleeding or weight loss. Yet as Habern knows all too well, even simple conditions such as bloating or a feeling of fullness can be signs of something more serious. Ironically, the most common symptom is no obvious symptom at all.

A disease this stealthy can affect a wider population than commonly thought, and it's easy to see why people have misconceptions, as Habern once did.

"I ate well. Nobody in my family has ever had colon cancer. And I definitely didn't fit the typical 50-year-old white guy profile," she notes.

For more information, log on to www.crcawareness.com, a comprehensive Web resource created by Olympus.
This article is copyright free. You are free to use it on a blog, website, in a newspaper, or newsletter.
To re-post this, copy the content above, or HTML on the right, and paste onto your site.