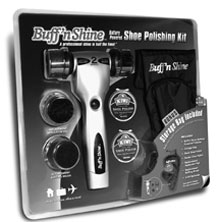 NewsUSA) – Shoe polishing is no longer a dirty job, thanks to a new gadget that eliminates the muss and fuss.

The Buff 'n Shine polisher is a battery-operated device that features a slow-moving shoe polish applicator on one of its two heads and a fast-moving polishing brush on the other.

The device cuts polishing time in half, according to Douglas Whitner, president of Boxwood Industries in Cleveland, the product's manufacturer.

First introduced in December 2005, the Buff 'n Shine struck a chord with those who have limited time and "don't want to deal with dirty rags and polish applicators," says Whitner.

"It is particularly popular with members of the armed services, safety forces and business community. Men or women on their way to an important meeting or even a black tie event can restore luster to their shoes without ever touching the polish."

Buff 'n Shine is powered by AA batteries, which provide dozens of shines before needing to be replaced. It comes in a package that also includes tins of black and brown shoe polish, replacement heads for the polishing device, and a travel kit that makes shoe care easily transportable.

The product was designed by Nottingham-Spirk Design Associates in Cleveland, which also developed the Dutch Boy plastic paint container and the Crest SpinBrush.

The kit sells for approximately $20 and is available at participating Wal-Mart stores.
This article is copyright free. You are free to use it on a blog, website, in a newspaper, or newsletter.
To re-post this, copy the content above, or HTML on the right, and paste onto your site.