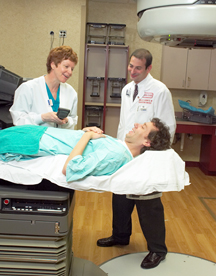 NewsUSA) – Prostate cancer is the most common form of cancer among American men. In fact, according to the American Cancer Society, as many as 1.8 million American men have the disease at any given time.

Although treatments for prostate cancer have existed for years, men can now choose from a wider variety of therapies than ever before. One in six men will develop prostate cancer at some point in his lifetime, but only one in 34 will die of the disease, and this statistic is improving with each passing year.

After being diagnosed with prostate cancer, patients will often discuss treatment methods with a radiation oncologist, a cancer doctor who specializes in treating diseases with radiation therapy, and a urologist, a surgeon who specializes in the urinary tract. Possible options for dealing with prostate cancer include surgery, external beam radiation therapy, hormone therapy, chemotherapy or prostate brachytherapy.

Sometimes, a combination of treatments proves to be the best way to fight prostate cancer; for example, some men undergo surgery followed by external beam radiation therapy, also known as radiotherapy. External beam radiation therapy, which involves a series of daily treatments to accurately deliver radiation to the prostate, often proves to be successful in treating cancer.

Brachytherapy involves treating the cancer by inserting radioactive sources into the gland itself. Seed implants are given by inserting small metal seeds of radioactive iodine or palladium directly into the prostate while the patient is under anesthesia.

To better understand your options, it's important to speak with several cancer specialists before undergoing any kind of therapy, as each man's cancer and health parameters are unique. Doing so can help you choose the most effective and suitable treatment for your life and condition. Organizations such as the American Society for Therapeutic Radiology and Oncology can help you learn about your treatment options and establish contact with specialists suited to your condition.

Visit www.rtanswers.org for more information.
This article is copyright free. You are free to use it on a blog, website, in a newspaper, or newsletter.
To re-post this, copy the content above, or HTML on the right, and paste onto your site.