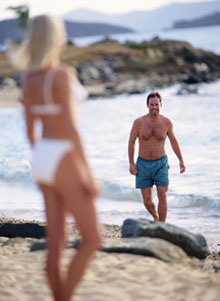 NewsUSA) – Prostate health is a major concern for men in their late 30s and older. Benign prostatic hyperplasia, a common part of aging, can be uncomfortable and even debilitating.

During the course of the aging process, active testosterone in the blood decreases, leaving a higher proportion of estrogen. In clinical studies, this estrogen increases the activity of substances that promote cell growth. Another possibility is the loss of ability to produce dihydrotestosterone, which controls the growth of the prostate. Without production of dihydrotestosterone, few men develop BPH.

Although surgery is often an option for prostate enlargement, adverse symptoms including incontinence and sexual disfunction are enough to make many sufferers choose prescription drugs if their BPH is mild or moderate. However, there is always a risk of experiencing similar side effects as with surgery, which is why natural remedies such as Roplex are a good alternative.

Roplex's combination of natural ingredients – including Scandinavian Flower Pollen, B-sistosterol and vitamin E – help reduce the symptoms of BPH, specifically frequent urination and a decline in libido, with no adverse side effects as shown in a recent three- month study done by Rexall/Sundown Inc.

Subjects of the study showed no evidence of cancer and were evaluated by American Urological Association Symptom Index score, urinary flow rate and residual bladder volume. After three months, overall BPH symptoms decreased dramatically as indicated by an improvement in the total American Urological Association Symptom Index. Subjects also reported an increase in sexual function as a result of taking a combination of the ingredients found in Roplex.

Because the ingredients in Roplex effectively shrink the prostate back to a more healthy size, pressure on the urethra is lessened, which decreases the incontinence attendant in BPH, and semen production increases. Thusly, Roplex can not only contribute to prostate health but also intensify male sexual pleasure.

For more information, visit www.roplex.com or call (877) 476-7539.
This article is copyright free. You are free to use it on a blog, website, in a newspaper, or newsletter.
To re-post this, copy the content above, or HTML on the right, and paste onto your site.