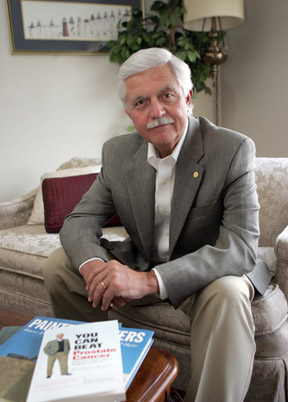 NewsUSA) – When Robert Marckini was diagnosed with prostate cancer, he had no trouble finding information about his disease. Instead, Marckini experienced a different kind of dilemma: The more information he gathered, the more confused and anxious he became.

Marckini resolved to help men experiencing a similar predicament. After receiving proton beam radiation therapy from southern California's Loma Linda University Medical Center, Marckini wrote a book that he hopes will serve as a one-stop source for information about prostate cancer and the different steps in coping with it.

The book, "You Can Beat Prostate Cancer," is a memoir-like account of Marckini's cancer experience that additionally describes the specific facts about testing processes, diagnoses and available treatment options.

The book also includes helpful hints throughout its text as well as a list of 10 things that men can do to take control of the detection and treatment of their cancer. Here are a few of those suggestions:

* Have an annual digital rectal exam. Marckini writes that it's unwise to rely solely on one test to diagnose prostate cancer. He suggests that men receive several tests, including annual DREs.

* Talk to others. Marckini suggests that prostate cancer patients speak with other men who have had each of the treatments they are considering. Marckini created a Web site, www.protonbob.com, that partly serves as a means for prostate cancer survivors and patients to interact.

* Personally choose your treatment. Weigh the pros and cons of each available cancer treatment and then make a decision based on your own criteria.

Marckini says that he chose to receive proton beam therapy for a variety of reasons, including the painlessness of the treatment and the 89 percent disease-free survival rate of patients.

By shaping a beam to match the specific shape of a tumor, proton beam therapy delivers high-energy particles to a tumor site while sparing healthy surrounding tissue. The facility at Loma Linda University Medical Center remains the world's largest proton treatment center, treating 140 to 150 patients per day.

For more information on proton therapy, call 800-PROTONS (800-776-8667) or visit www.proton-therapy.org. To learn more about the book, log on to www.protonbob.com.
This article is copyright free. You are free to use it on a blog, website, in a newspaper, or newsletter.
To re-post this, copy the content above, or HTML on the right, and paste onto your site.