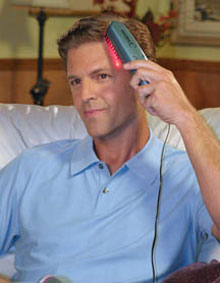 NewsUSA) – You've changed shampoos. You've tried new conditioners. Nothing seems to help. Your hair is thin, weak and dull. Could there be new hope in a comb?

Employing advances in laser technology, Florida-based Lexington International created the HairMax LaserComb, a unique method for improving the appearance of hair using laser photo therapy.

Both men and women with thinning hair have used the comb and reported positive results. Propecia, in contrast, can be used only by men, and it carries a risk of sexual side effects. Rogaine, a topical solution that you must apply twice every day, can cause itching and inflammation of the scalp.

While its manufacturer cannot yet claim hair regrowth, the HairMax LaserComb offers a drug-free alternative that the company says makes hair look healthier, fuller and more vibrant over time. On the market since 2001, it complies with U.S. safety standards as a laser product safe for general use and has no reported adverse side effects.

Lexington International recently submitted the results of its clinical trials to the Food and Drug Administration. Media coverage in Time magazine and on "Dateline NBC" has increased consumer interest in the product.

So, how does it work? The HairMax splits one high-powered laser beam into nine low-level beams that "bathe" your scalp. Instead of combing through your hair in one continuous motion, you use the "glide" technique: Starting with a clean scalp, settle the LaserComb on a specific place at the front of the hairline and move the comb backwards an inch at a time every four seconds until you reach the back of your head. Repeat the process from the back to the front. Recommended use is 10 to 15 minutes three times a week.

How effective is it? According to Lexington International, user satisfaction exceeds 90 percent, with 45 percent seeing positive results within eight weeks of treatment; another 45 percent see benefits within 10 to 16 weeks.

For more information, visit www.hairmax.com. The site contains information on the technology behind the product, answers to frequently asked questions and a discussion forum where users post their experiences.
This article is copyright free. You are free to use it on a blog, website, in a newspaper, or newsletter.
To re-post this, copy the content above, or HTML on the right, and paste onto your site.