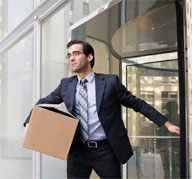 NewsUSA) – With the possibility of layoffs lurking around the corner for much of today's workforce, it is important to be prepared, especially when it comes to health insurance.

President Obama's recent stimulus package includes a 65 percent subsidy on the cost of COBRA premiums for up to nine months.

The subsidy applies to anyone laid off after September 1, 2008, provided they meet other important criteria. eHealth, Inc. has posted answers to questions about the subsidy at www.COBRALearning.com, as well as a COBRA subsidy calculator, which can help you determine what your subsidized payments will be each month.

But, before you "auto-enroll" in a subsidized nine-month COBRA plan, you may want to explore options in the individual health insurance market. According to the J.D. Power and Associates 2009 National Health Insurance Plan Study, people who purchased individual health insurance gave it a higher satisfaction rating than those who got healthcare through a small employer (50 employees or fewer).

More importantly, monthly premiums for individual health insurance plans cost, on average, about 60 percent less than average monthly COBRA premiums.

People with pre-existing conditions, like diabetes, might have trouble qualifying for individual health insurance, so COBRA might be their best option. But relatively healthy adults might find COBRA more expensive than private plans.

For example, a healthy, single, 30-year-old male could expect to pay $380 per month on COBRA; $133 after the subsidy. But the same man might find individual health insurance from a name-brand insurance company for around $65 per month. Individual plans go through an underwriting process, which means you can be denied coverage. Deductibles, benefits and other features of an individual plan will also differ from COBRA plans, which are group plans.

According to Chris Hakim, Director of COBRA Solutions at eHealthInsurance, "People struggling to make ends meet should explore health insurance coverage in the private market as an alternative to COBRA.

A 2008 survey of 227,000 private health insurance policies found that 50 percent of individual holders paid less than $130 a month, and that over 50 percent of families paid under $300 per month. Over 90 percent of the plans surveyed included lab visits, x-rays and trips to the emergency room and to the OB/GYN. More than 80 percent also covered prescription drugs, well baby visits and periodic exams.

For more information, visit www.eHealthInsurance.com.
This article is copyright free. You are free to use it on a blog, website, in a newspaper, or newsletter.
To re-post this, copy the content above, or HTML on the right, and paste onto your site.