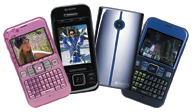 NewsUSA) – It began with ring tones. In lieu of standard ringing sounds, phones alerted their owners to incoming calls with quotes, songs and jingles. People expressed their individuality through their ring tone choices -; Beyonce or Beethoven, Hannah Montana or Wyclef Jean.

But the trend toward customized technology has long-since extended beyond the way that cell phones sound. Today, it's all about looks. The cell phones of yore came in neutral colors, like black or silver — newer models come in colors to suit every personality.

For example, the Sanyo SCP-2700 comes in "Deep Blue" and "Impulsive Pink," while the Kyocera Neo E1100 comes in black with a stylish blue lightpipe or maybe metallic with a hint of purple better suits you. Even black models offer customization options. For example, 80 percent of the Kyocera G2GO M2000 is display screan, so wallpapers and images can completely change the look of the phone. Users can display their favorite actors and music groups or even use pictures that they took themselves.

What color best suits your personality? Kyocera provides this list of colors and what some experts say they mean:

* Black — Serious, Intense, Mysterious, Stormy, Excited, Energetic.

* Red — Passionate, Active, Adventurous, Excited.

* Orange — Thinking, Searching, Stimulating Ideas.

* Blue — Happy, Calm, Optimistic, Peaceful.

* Purple — Mischievous, Mystical, Sensual.

* Gray — Cool, Unconcerned.

Of course, cell phones must be functional as well as attractive. New models are sleek and light, yet offer coveted features, including wireless Internet access, Bluetooth technology, voice recognition, music players and messaging capabilities. And these, along with premium features like full QWERTY keypads, are now available for almost any budget.

For more information, visit www.kyocera-wireless.com.
This article is copyright free. You are free to use it on a blog, website, in a newspaper, or newsletter.
To re-post this, copy the content above, or HTML on the right, and paste onto your site.